As most of you know, I'm deeply into my complete rewrite, revision, and expansion of my book The Untold Story of the New Testament Church, which I hope to release over the next few years.
(If you're are new to my work and you weren't aware of this, DO NOT buy the old version. It's flawed and grossly incomplete. Wait until the new version releases.)
As I write the new revision, which currently is triple the size of the old version, I'm aiming at making it the most complete treatment of what happened between Pentecost and Patmos in the first century, blending together the story of Acts with all the epistles.
I'm currently up to the 325th draft with over 1,900 footnotes, utilizing the best resources by scholars and historians to support my findings (both classics from the past and the most current works).
Excavating the Land of Jesus: How Archaeologists Study the People of the Gospels by James Riley Strange is one such resource.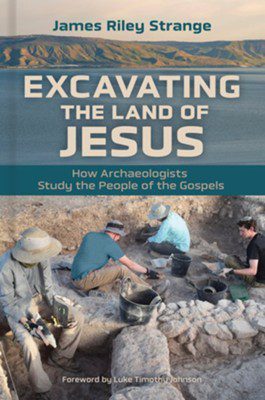 When I was a student at USF, Dr. Strange (who I presume is James' father) was a high-regarded archaeologist. He was also known on campus as being a Christian.
This new book by James R. Strange is terrific.
I discovered many facts about the places that Jesus walked that were new to me, and those facts will appear in my upcoming book.
What follows is from the publisher:
How do archaeologists unearth the daily life of people from Jesus's time?
Contrary to popular belief, archaeology of first-century Roman Galilee is not about illustrating or proving the gospels, drawing timelines, or hunting treasure. Rather, it is about understanding the lives of people, just like us, who lived in the time of Jesus. How do we conceive of Jesus and his mission as part of a larger world? How did different groups in Roman Galilee understand their identities and values? How do we interpret material culture in conjunction with textual evidence from the gospels? On a more basic level, how do we know where and how to dig?
James Riley Strange teaches students how to address these problems in Excavating the Land of Jesus. Drawing on professional experience as a scientific archaeologist in Israel, Strange explains current methodology for ground surveying, excavating evidence, and interpreting data. Excavating the Land of Jesus is the ideal textbook for students seeking answers in the dirt of the Holy Land.
Title: Excavating the Land of Jesus: How Archaeologists Study the People of the Gospels
By: James Riley Strange
Format: Paperback
Number of Pages: 208
Vendor: Eerdmans
Publication Date: 2023
Dimensions: 9.00 X 6.00 (inches)
Weight: 15 ounces
ISBN: 0802869505
ISBN-13: 9780802869500
Stock No: WW869502