Studying the Historical Jesus: A Guide to Sources and Methods by Darrell Bock is an excellent primer on the critical aspects of Jesus studies.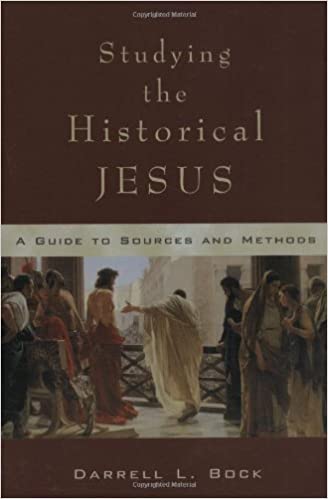 Bock (PhD, University of Aberdeen) is executive director for cultural engagement at the Hendricks Center at Dallas Theological Seminary in Dallas, Texas, where he also serves as senior research professor of New Testament studies. He is the author or editor of many books, including Jesus the God-Man, Jesus according to Scripture, Studying the Historical Jesus, and major commentaries on Luke and Acts.
I've interacted with him before and appreciate his willingness to answer questions.
I'm using this particular volume for my revision and expansion of The Untold Story of the New Testament Church.
Bock's book contains valuable sociological-historical information about first-century Palestine, like the population of various cities, etc.
Consequently, it will be cited in the footnotes.
He also does a chronology of the Lord's life.
The book is laid out well and easy to read. And for a slim volume, it's packed with valuable content.
Academic students of the Gospels should have a copy in their library.
Here's a description of the book from the publisher.
Interest in the historical Jesus continues to occupy much of today's discussion of the Bible. The vexing question is how the Jesus presented in the Gospels relates to the Jesus that actually walked this earth.

Studying the Historical Jesus is an introductory guide to how one might go about answering that question by doing historical inquiry into the material found in the Gospels. Darrell Bock introduces the sources of our knowledge about Jesus, both biblical and extra-biblical. He then surveys the history and culture of the world of Jesus. The final chapters introduce some of the methods used to study the Gospels, including historical, redaction, and narrative criticisms.
Bock, a well respected author, provides an informed evangelical alternative to radical projects like the Jesus Seminar. His audience, however, is not limited only to evangelicals. This book, written for college and seminary courses, offers an informed scholarly approach that takes the Gospels seriously as a source of historical information.