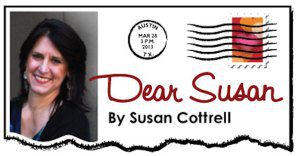 Trapped in the "wrong" body? Forced to live in a way that contradicts the gender you know in your heart and soul you are? Transgender people have unique difficult issues – one of which is believing that God loves them exactly as they are.
Many of my readers struggle with this, and I get this question a lot. I look forward to sharing one of those questions, and my answer, with all of you today.
I write Dear Susan posts every Friday. Sometimes they will be poignant, sometimes thought-provoking, sometimes tender, sometimes funny… but hopefully always worth the read.  🙂
Dear Susan,

From glancing over your website it is just what I have needed in my life! I live in a very religious town so being able to come in will be extremely difficult. I was raised in the Pentecostal Church in a small town and have had to work through religious issues of accepting myself. When I originally came out as gay, my family said my soul is damned and they love me but could not fully support or accept my life. Some family members have fully rejected me. Over the years I have learned that I'm not gay but I truly identify and see myself as a male. Coming to that realization explained so much of my life, feelings, and emotions. But what has been religiously engrained in me is that God cannot possibly approve of this or love me. I have not even begun a transition process because of this inner turmoil. I greatly appreciate anything you can do or are willing to do that can help me work through this.  I only want to be at peace spiritually as well as experience a happy life.

Thank you so much for what you do. Your work is a blessing and provides me with the hope of the future.

Trapped in a Female Body
Dear Trapped,
You have such a tender heart. I'm SO glad you wrote. Listen to me my sweet friend, the turmoil you feel is born from religious legalism, not from God.
God MADE you, God ACCEPTS you.
Only a handful of years back, left-handed people were told God hated them unless they changed. People say many untrue things about others, and it takes the peace only God can give you to not be destroyed by those comments and condemnation, you know?
How do I know these things? Because I know the character of God… and I know the character of fundamental religion. Religion is about fear. God is about LOVE.
Think about intersex people — born with ambiguous female/male characteristics. NO CHOICE THERE! How much difference can there be in God's eyes if you are a male born in a female body, or born in a female/male body? Can your family say one is condemned and not the other? Or would they condemn both? They sound just like the people who were CERTAIN that the man was born blind because of sin. And Jesus said, Uh, no.
Anybody can say or teach anything, but that doesn't make it true.
Take heart! God made you, God loves you, and there is nothing you can do to change that. 🙂  Ask God for true peace, the peace only God gives, the peace that no one can take away. It may take time for you to receive it, because you've heard the lies for SO very long. But seek God, and follow the still small voice of love that speaks back.
If the voice condemns you, it's not God. If it sounds like love, it's God. That's what you have to know.
Susan