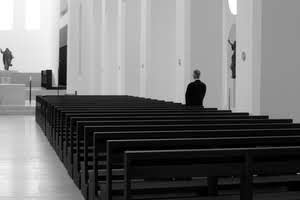 Churches are facing hard decisions on their treatment of LGBTQ. Some churches are changing, some are doubling down. Individuals in the pews, pastors in the pulpits are having to make difficult choices about whether or not to leave churches they have been in for many years.
How do they navigate friendships? How do they navigate risk? This can include risk to a gay child who may or may not yet be out. It may include risk to pastors' livelihoods and lives, as we've seen with David Gushee, Frank Schaeffer, Ken Wilson, Danny Cortez and Chester Winger, the 96-year-old pastor defrocked after officiating his gay son's wedding.
This is not the first time this situation has come up in history. I think of families – even brothers fighting, one on each side of the Civil War. I think of early Church Reformers, risking their lives to speak against abuses of the Catholic Church – and having to speak against different types of abuse in the Catholic Church today.
I think of individuals, families and pastors standing against church acceptance of slavery, standing up for women's rights, standing against racism.
It's never easy, but sometimes it's necessary.
It is important to make clear that there is no one right answer. Sometimes God leads us to stay and stand up, sometimes God leads us to leave. That is between you and God.
I just want to share one Mom's story with you today…
A year after her son came out, my friend finally left her church of 11 years. She is now completely affirming – she just cannot remain in a church that still condemns and rejects LGBTQ people – and who does it all 'in Jesus name.'
At this point, her husband remains there, but supports her desire to be in an affirming church. These are huge decisions for people.
She got a simple email from friends in her old church. It started a conversation and I want to share it with you:
Kathy,

Lisa and I have not seen you at church recently. We hope you are well. Just wanted to let you know that you are missed.

Mike
Kathy then wrote to me:
"Susan, I'm not sure how to respond. I almost want to say we have denominational issues and they can talk to the pastor. But maybe that is mean… I don't know. They are the first folks who reached out. They are good ones, good hearts."
This is a common problem. It's not easy to speak the truth into a church culture that has made it costly to speak the truth. Here is part of my answer to Kathy, for any of you who may face this.
Well, is there a reason not to be straight up with them about it? To say that your son is gay and you have become completely affirming – and you want to be in a place where you are like-minded. I always like to move the conversation forward, so I will say things that open it up. You know? They can then not answer, or they can say they disagree, or maybe they can even tell you about their own lesbian niece! But I personally prefer to hold the space for people to face this authentically – and they will do what they do. 🙂 A comment back like that, if you're up for it, will make it easier for the next one who comes along.
Her situation is a little different in that things are already "out" with her pastor and leadership – just not to her friends. Is it still risky? Yes. But, like I said before, I think we, as parents of LGBTQ children, have a unique, inspirational, powerful voice to bring about change in the church, or even just change in individual Christians. It might be a time when God is calling us to stand up.
And of course, I let her know that she needs to check with her son because you never want to out anybody. If he is not ready and you still want to answer, you can always talk about your shift on this in general without outing your gay child.
This is her final letter back to her friend. I think it's a good one. 🙂
Hi Mike,

I hope you are doing well. I miss you too! Thanks for reaching out. A few have asked Sam how I am, however, I appreciate you actually asking me. 🙂

I have struggled at the church for a while. I have family members who are gay, a niece and a son. I also had a cousin whom I loved very, very much who passed away with her wife at her side five years ago. I have studied a lot on this issue over the past year. I am completely affirming towards this community of folks. I strongly disagree with the Southern Baptist position taken concerning homosexuality. As of late, I have been visiting churches looking for a new home that is Christian and affirming/inclusive towards this community of people.

Joel and the other pastors are aware of my shift in position; we are in two different places. Most importantly, I have Sam's support to do what I need to do to continue on my faith journey.

Again, Mike, thanks for caring. God's peace to you,

Kathy
As I said, I think it's helpful to come out as an ally when possible – because it moves the conversation forward.
There are more people than you know – sitting in pews and standing behind pulpits – whose hearts are ready. They know deep in their spirit that the church position against gays is not only Biblically wrong, it is in complete conflict to the truth and heart of God and the teaching of Jesus. So many are ready to stand up and sometimes they just need ot know they are not alone.
But this is a profoundly personal journey. It's your journey. No one answer is right for everyone.
Discuss this with your LGBTQ loved one. Talk, pray, assess the risk. Consider the benefits. And then listen to that helper, the Spirit of God in you, who leads us in all truth.
Whatever you decide, you are not alone. 🙂