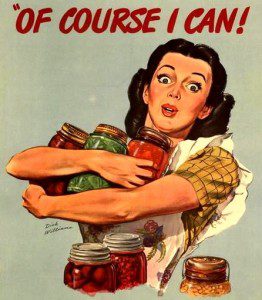 This is a message for all the women weighed down by the Proverbs 31 Woman. Well, she stopped by to clear the record on the book written about her. 🙂  Here she is… in her own words…
For heaven's sake! What have you done to my story? Here it is, a beautiful poem, and it's been used as a noose around your neck. It was never meant to be that. You're cooking and canning, washing and scrubbing, up before the crack of dawn, striving SO HARD to be "practically perfect in every way." You're as bad as Mary Poppins!
I am just a person. Good grief. You compare yourself to me as if people are born knowing how to do everything they do. People grow and mature into their roles — we all do. You are growing more amazing every day!
But you MUST stop striving. 
Take joy and peace in exactly who you are right now, because you're exactly who you were meant to be!
You're exactly where you should be, right now. Don't look at the best in someone you admire who has matured over time, and compare that to all of your failings. That is a recipe for disaster, depression, shame and self-loathing. 
Don't subject yourself to that — you don't deserve it.
Now, do you want to know the really worst part of this? I'm not even real. Nope. I am something someone made up. I'm an allegory, a poem, a tribute to wives everywhere! 
Did you know that in the Jewish culture, my poem is recited as a tribute to women? Yes! It's like a toast, a hearty encouragement for women of valor. Did you also know that in the Jewish culture, it is the men who memorize this poem, not the women? Because the men recite it as a tribute to their women. It is meant to cheer you on for what you have done, not point out what you haven't. 
The LAST thing this Proverbs 31 woman is meant to do is to add to your burdens, for goodness sake, to create more of an unrealistic expectation than you already carry.
Seriously, now. Sometimes it's all you can do just to go through another day — I know.
Celebrate the victory it is for you to be where you are right now. When you compare yourself to others, you diminish both you and them, and you give away your power and your joy.
Take heart! Take my story for the encouragement it is meant to be. Live FROM your accomplishments, don't live FOR them.
That is, live from the beauty and worthiness that are already yours, instead of trying to attain, or prove, those things.
So raise a glass of wine to you, woman of valor! You are already amazing, beautiful, brave, persistent, courageous, accomplished.
ENJOY the imperfectly perfect you!