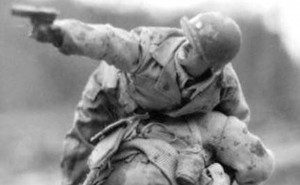 An Oregon man got an unexpected lesson in irony after posting a viral photo on Facebook criticizing the media coverage of Caitlyn Jenner's gender transition.
When I first read this story, I knew I had to share it with you. It appeared on RawStory and is an incredible article by Travis Gettys. Enjoy.  – Susan
Terry Coffey, of Salem, posted a black-and-white photo Monday night that appears to show a World War II soldier trudging through mud carrying on his back an apparently wounded soldier who is firing a pistol.
"As I see post after post about Bruce Jenner's transition to a woman, and I hear words like, bravery, heroism, and courage, just thought I'd remind all of us what real American courage, heroism, and bravery looks like!" Coffey posted.
The post rocketed across social media over the next day, and has been shared more than 755,000 times – but Coffey said he learned a thought-provoking lesson as he searched the photo's origins. In a follow-up post…

Click here to find out what happened and view "the rest of the story" on Travis Gettys' original article on RawStory. 
You will be absolutely amazed!
Key posts from FreedHearts and Susan Cottrell…

Click to read "I am the mother of a gay son and I've taken enough from you good people." 

Click to read A Straight Christian Mom Responds to Dobson's Attack on Gays.

Click to read Are Your Leading People Astray by Supporting Gays?

Click to read To Christian Parents of Gay Children.