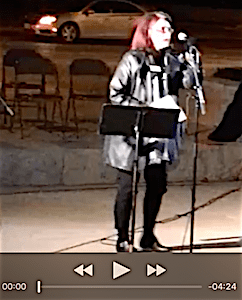 Yesterday was Transgender Day of Remembrance. Rob and I spent the evening with some 200 people, most of them trans, many of them family and friends, at a gathering on the steps of Austin City Hall.
Together we remembered transgender people who have been murdered this past year, and we celebrated transgender people who are still living. A cold night, a somber night, a night of love for ourselves and each other.
Those of us on the program shared our hearts and a call to love and embrace each other.
It's the least we can do.
I was honored to speak to these beautiful people—friends, and friends I hadn't met yet—and I laid down an encouragement and challenge to parents, to love, embrace, protect, be family to your trans (or LGB) child.
Click here or on the above photo to watch my short talk.
Donna shared a story of walking in her neighborhood, when a woman called out, "There goes the neighborhood tranny." Donna stopped in her tracks. She turned and looked back at this woman—hair in curlers, cigarette hanging out of her mouth with ashes an inch long hanging onto the end, getting her mail. How dare she call me "the neighborhood tranny"? Donna thought. Then she stood there. Thinking. I am transsexual, she conceded. And I do live in the neighborhood, it dawned on her. I guess I AM the neighborhood tranny! Yes! I'm the neighborhood tranny!
She owned it and was freed by it. She later moved from that neighborhood, she told us, to a very small town in Texas. "I'm no longer the neighborhood tranny," she paused. "Now I'm the town tranny!" We laughed and applauded! Not only because this woman is funny, but because these people recognize the power of owning your story, without shame. Own it. Work it.
By their very presence, trans people challenge what we think about gender and the male-female designations. We get uncomfortable, and I realize that many people really cannot understand what it could mean to be trans—even my two out lesbian friends can't quite wrap their heads around being trans; it's a very different experience.
But difference, discomfort, not understanding, do not justify hurting or killing the one who challenges us. Surely there are many people we don't understand, but we don't hurt or kill them. "Oh there's a man in a dress. I don't understand that. I think I'll kill him." That's the part I don't understand.
Children have a much easier time of this than adults, it seems, when they are given free reign to love people as people, instead of being taught to determine who's wrong so they can marginalize them.
Last night a mom—at the event with her trans aunt—shared a conversation she'd had with her young daughter.
"Can you love someone who's trans?" she had asked her daughter. "Of
course,
Mom!" the daughter answered. "It doesn't matter if someone's a boy or girl or anything—you just love them!"
Mom asked. "How can you tell if someone is a boy or a girl?" Her young daughter answered dramatically and confidentially. "It's all in the eyelashes, Mom!"
Reverend Carmarion D. Anderson, a black trans pastor from Dallas — inspired us toward loving each other. "We are in a state of emergency," she said, and she talked about the ridiculously disproportionate numbers of murders of trans people. She mentioned a woman murdered last year by police. Even if we don't understand trans people, a conspiracy of murder constitutes a state of emergency.
"We're in a state of emergency," she said, and she talked about the huge numbers of suicides and suicide attempts of trans people. For a group to continually be vilified, blamed because they are different, murdered or ostracized because their very presence challenges our understanding of gender and the nature of men and women, constitutes a state of emergency.
"We're in a state of emergency," she said, and she talked about the hugely disproportionate numbers of murders of trans people of color. For people of color—trans or not—to continue to be disproportionately murdered, beaten, arrested, harassed, detained, and imprisoned, constitutes a state of emergency.
Yes, we are in a state of emergency.
Trans people commit the fewest number of crimes, but the most number of crimes are committed against them.
No matter how different someone may be from those around them, a civilized citizenry cannot justify vilifying or killing them. For us as a citizenry to continue to do that constitutes a state of emergency.
At the end of the night, we held our glow sticks as someone read the list of 21 names of trans people murdered last year. (The actual number is considerably higher.) Behind the microphone sat 21 empty chairs, which 21 people walked up and sat in, to show us what 21 people look like, 21 lives whose lives are ended but whose stories can go on, an inspiration to make a change.
What can you do? What should you do?
1. Open your heart about trans people. Do not assume that what you think about trans people is the correct way to think. If you believe in God, do not assume you know how God feels about those people God made. Ask. Be open to a discovery about how God sees those trans people.
2. Begin to see trans people. Recognize them as you notice, and imagine their life for a minute. Don't withdraw—just see.
3. Become a friend. If you do not know any transgender people in 2015, why not? Purposely open yourself up to making a trans friend. If you pray, ask God to bring a trans person into your life. Go to a local PFLAG meeting and listen to the stories. It will open your eyes.
Life is hard enough, scary enough, unknown enough. We need each other to get through all the bombings, mass shootings and other violent attacks.
Love each other. Maybe with a special focus on those who are different than we are.
To heal this world, that is the place to start.