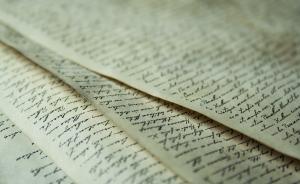 Let's imagine for a moment… A letter arriving today from Paul to the non-affirming church:
Grace and peace to the Church of America,
I, a servant of Christ Jesus, called to be an apostle by the will of God, write to you with a heart burdened by the state of your congregation. Though I am physically absent, the Spirit compels me to address you as a sibling, guided by the love of our Lord and Savior.
It has come to my attention that divisions and prejudices have found their way into your fellowship, causing you to neglect the truth and the very essence of the Gospel. I write not to condemn, but to bring correction and remind you of the boundless love of God that should flow through every fiber of your being.
Firstly, I must implore you to examine your treatment of your LGBTQ+ neighbors. Remember that our faith rests on the foundation of love, and it is love that should guide our interactions with one another. I remind you of the apostle John's words: "Beloved, let us love one another, for love is from God, and whoever loves has been born of God and knows God" (1 John 4:7). Do not withhold the love of Christ from any member of your community, regardless of their sexual orientation or gender identity. For in Christ, there is neither Jew nor Greek, slave nor free, male nor female, but all are one (Galatians 3:28).
Furthermore, it pains me to hear that you have failed to extend a warm welcome to those who look different from yourselves. Remember the example of our Lord Jesus, who did not discriminate based on outward appearances, for He saw beyond the surface and recognized the inherent worth and dignity of every individual. Let it be known that there is no room for prejudice or discrimination. Embrace diversity and celebrate the uniqueness of each member of your congregation.
Lastly, it deeply saddens me to learn that you focus so much on increasing your own power, influence and wealth, you are neglecting the least of these in society—the poor, the homeless, the hungry, the immigrant, and the oppressed. The Gospel compels us to care for those in need, to advocate for justice, and to uplift the marginalized. Remember the words of the apostle James: "Religion that is pure and undefiled before God the Father is this: to visit orphans and widows in their affliction" (James 1:27). Seek opportunities to serve and to meet the needs of the most vulnerable in your community, for by doing so, you emulate the love and compassion of Jesus.
My beloved siblings, I urge you to search your hearts and minds, allowing the Spirit to convict and transform you. Let the love of Jesus flow through every action, every word, and every decision. Rejoice in the beautiful diversity of your community.
May the grace and wisdom of our Lord guide you as you prayerfully consider these words, so that your church may be a safe haven for the hurting, a place of rest and comfort for those in need, and a beacon of unconditional love and acceptance in a country divided, in pain, and longing for hope.
In the bonds of love.
May we have ears to hear.
For vibrant inclusive community, and powerful resources, come say hello.