As he shepherded Bill Clinton's successful run for the Presidency in the early 90s, James Carville famously used to keep the candidate and all campaign spokespersons on task by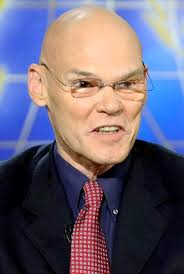 reminding them frequently that "It's the economy, stupid!" Don't let yourselves get sidetracked by shiny objects along the way—keep focused and on message. If we keep reminding people about the state the economy is in and what a Clinton presidency will do about it, we'll win. And they did. In politics, the message is everything, something that the dozen and a half or so persons seeking to win the 2016 Presidential election had better not forget. The person who best crafts a convincing message and sticks to it is likely to be our next President.
I was reminded of James Carville the other day when I received an email asking me to contribute a 500-1000 word essay to a national publication reflecting on the following question: At what point does political advocacy on the part of Christians distort or compromise the Christian message? A timely question, to be sure—my essay (which I have yet to finish) will be one of four commissioned essays the magazine will be publishing in consecutive weekly editions this fall. A sure sign that I am inexorably being drawn into the social media orbit is what I did shortly after I agreed to write the essay—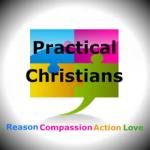 I sent the question out to a couple of Facebook groups I am a member of and simply asked for ideas and opinions. And I got some.
Mind you, these Facebook groups were carefully selected; both are loose collections of persons similar to me. Members are self-identified persons of faith, politically liberal, and willing to press the traditional boundaries of Christian religious orthodoxy regardless of where the orthodoxy comes from. At what point does political advocacy on the part of Christians distort or compromise the Christian message? Here are selected unedited comments and ideas:
When the advocacy stops helping others or putting others first. When the message is in conflict with the words of Jesus. When people feel excluded. When the message lacks love.
Honestly, to me, the message is compromised any time the focus is on the "letter" of the law – rather than the "spirit" of the law. And, (to me) one of Jesus' main messages was to love God – it wasn't to fear God – so, whenever fear (or control) is the foundation, it's distorted. And, whenever a faith-path is used to deny people rights, suppress, etc. it's a distortion. I had to really think about your question – because I don't think Christianity or any other religion/faith path has a place in politics. People are free to believe & practice whatever works for them – but, I don't like seeing or hearing it talked about – and, believe that laws should not be proposed or based on someone's (or a particular groups) beliefs…
When the use of cherry picked scriptures are used to govern others and make them feel "less than" in any way.
Where it seeks to limit the liberty of others.
These suggestions seem eminently reasonable to me. We live in a society where church and state are deliberately and constitutionally kept separate, for the mutual protection of both. Religiously motivated advocacy runs afoul of the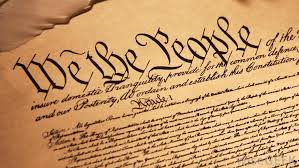 Constitution when it seeks to limit the freedoms of those who do not share the advocator's religious principles. More specific to the question asked, most Christians would agree, I think, that at the heart of their faith is a spirit of love, of focusing on others rather than oneself, of concern for the least among us, and of inclusion. Policies advocated in the name of Christianity that violate this foundational spirit are a distortion of the Christian message.
Yet I have no doubt that I would have received radically different answers had I posed the question to a group of persons of faith who do not share my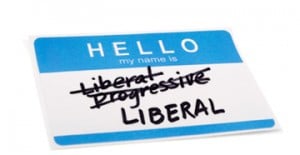 liberal/progressive convictions and commitments. Anyone with the slightest awareness of what is going on in the public sphere knows that political advocacy in the name of Christian principles happens on a daily basis that at least on the surface seeks to infringe on the freedoms of others, to draw lines of exclusion rather than blurring or erasing them, as well as ignoring or underemphasizing the needs of the poor and disenfranchised. In seeking for possible explanations for these apparent contradictions, I found the following observation from a Facebook friend to be particularly helpful.
People who disagree on "what is the Christian message" may also disagree whether it is compromised by political advocacy.
The philosopher in me resonates with this. The question as presented to me (and presented by me to my Facebook acquaintances) is misleading because it refers to "the Christian message" as if this message is something agreed upon by all person who profess the Christian faith. This obviously is not the case.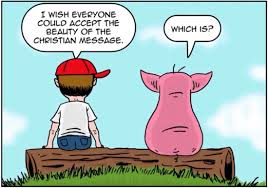 So before we start asking about how far political advocacy can go before it distorts the Christian message, we need first to figure out what that message is. Good luck.
I honestly despair of agreement between Christians concerning what the Christian message is. The message I was taught as a child is very different than the message with which I resonate now—yet I was just as much "Christian" then as I am now. What I was taught then is extraordinarily different from what I believe now. The bridge across this disconnect, and across the disconnect between Christians now, cannot be constructed from dogmas, principles, rules, or political action. My Christian faith prompts me to endorse policies and perspectives that directly conflict with the very policies and perspectives endorsed by fellow Christians whose understanding of the implications of their faith is entirely different from mine. So what is to be done?
On one level of understanding, I don't know. But I am reminded of the story in the gospels of the Publican and the Pharisee.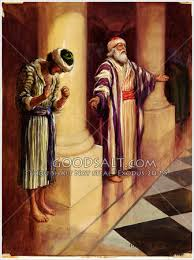 The Pharisee's prayer was public, self-righteous, and confident in his conviction that he understood the mind of God. The Publican's prayer was unobserved, private, and repentant. And guess whose prayer Jesus endorsed? Samuel Coleridge once wrote that Christianity is a life, not a doctrine. The Christian who advocates politically should not be promoting a rule of law but rather exemplifying a way of life. I wonder whether Christian political advocacy might not be an oxymoron. Who I am, what I advocate and fight for in the public square, should not be a matter of principles and doctrines. It should rather be a natural reflection of the person my faith has caused me to become. And since faith works in radically individual ways, the expressions of lived Christian faith will be as various and unique as the persons within whom that faith has made a difference.