In the days that have passed since the January 6th seditionist attack on the U. S. Capitol building, many people have expressed shock and surprise at how obviously unconcerned those rampaging and wandering through the rotunda and elsewhere were about any sort of responsibility for their actions. Why were they unafraid of having their faces caught on camera? Why were so many of them using their various devices to send out on social media live footage of the insurrection in which they were involved? Why did they clearly feel that they could do whatever the hell they wanted with impunity and without fear of repercussions? Were they simply stupid? Perhaps that covers it for some of the participants in the chaos. But there's a much more likely answer as to why they had no concerns about consequences for their actions: They were all white.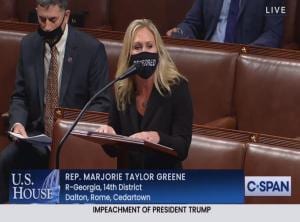 During the impeachment debate in the House of Representatives on January 13th, Rep. Marjorie Taylor Greene (R, GA-14) made her remarks at the microphone while wearing a mask that said "Censored." Really. Only a white person could seriously imagine that she could be speaking live to millions people worldwide with one of the largest microphones on the planet and still be a victim of censorship. White privilege on parade.
White privilege has been on parade over the past several days, so much so that when we reach the "Race" unit in my ethics class this coming semester, a unit that I always begin with a class or two on white privilege, I will use the past few days as a case study. I am a white male, meaning that I bear, through no virtue of my own, two of the tickets that have bought people privilege and access in this country ever since its founding. I've explored this frequently over the past several years in this blog, most recently in the content of the murder of George Floyd and the subsequent protests that occurred this past summer. Today seems like a good time to revisit that reflection.