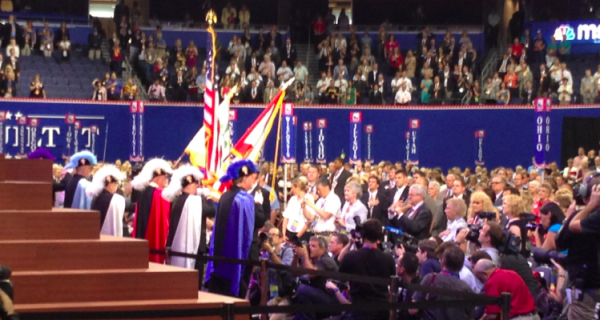 So, I'm sitting here again, trying not to get teary, while sitting in the GOP Convention which was just called to order. The above photo is of the "colors" being brought into the conference center, which was followed by the National Anthem, and a prayer — in Hebrew — by a Rabbi.  When he prayed for Mitt Romney and Paul Ryan, I had to really fight tears.
I love America!
The mood is festive, people are having a great time, and — in random intervals — some of the crowd begins shouting Ron Paul.  Should be an interesting dynamic here!
Are there any Evangelicals for Mitt here?  E-mail me at Nancy @ EvangelicalsforMitt dot org!  I've already met so many wonderful friends — drop me a note!