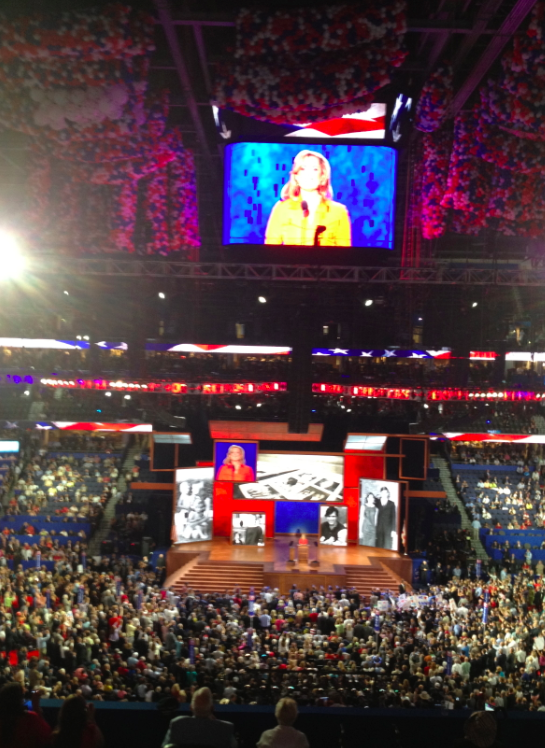 After a 2:30 a.m. arrival back in our room and a 6:00 a.m. start to the morning, I have some brief time to blog Day One. I have four thoughts:
1. This is my first convention, and I'm struck by the difficulty in assessing the success of the day. I can tell you who energized the convention hall, but I can't tell you how it looked on TV, and aside from my Twitter feed, I was completely disconnected from the commentary (a good thing, perhaps). At any rate, while I enjoyed Chris Christie's keynote overall and admire what he's accomplished in New Jersey, I may agree with Andrew McCarthy's criticism — there was an awful lot of "I" and "me" in the speech. Yes, bravado is his style, but it was just a bit off-putting in person, especially compared to Ann's speech. Which bring us to . . .
2. This was Ann Romney's night. While there is convention tension between "establishment" and "grassroots," there was total unity in the hall when Ann spoke. Everyone was rooting for her. You could feel the crowd urging on the speaker, encouraging her, cheering her every applause line. I don't know how things came across on camera, but inside the hall, there was truly unique combination of warmth and sheer excitement.
3. Honestly, the "establishment" and "grassroots" conflict confuses me. While everyone seems to know who's establishment and who's Tea Party in the abstract,
the individuals themselves
almost unanimously view themselves as "grassroots." Even the
briefly-notorious dispute
that saw "grassroots" fight "establishment" over delegate rules was just as much a fight between grassroots activists with different viewpoints on the process. Honestly, even I'm confused. I've supported Mitt Romney since 2005. Does that make me "establishment"? I also represent Tea Party bloggers and Tea Party groups across the country. Does that make me "grassroots"? I don't know and don't care.
4. It was a joy to vote to approve a party platform that so clearly and unequivocally commits the entire party to defending the unborn. Abortion is the great moral tragedy of our time, and it is a blessing that at least one of our major parties is growing ever-more-committed to defending our most vulnerable citizens. I pray the other party abandons its equally-unequivocal commitment to granting citizens the right to kill the innocent.
One final thing note: I can't count the number of readers we've met since we've arrived. It is a joy to see you, and please if you see a balding lawyer-looking guy with a very attractive wife wearing an "Evangelicals for Mitt" button, don't hesitate to come say hello.
More reports to come . . .