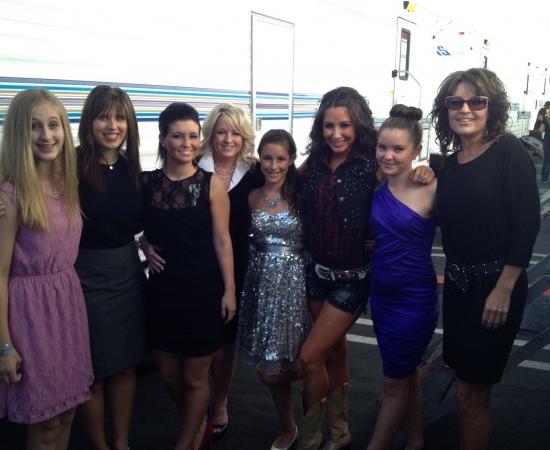 Before the show, the family gathered in the ABC trailer lot to hang out with Bristol before her quick step!
Last week, my 13 year old daughter Camille and I had the honor of going to Hollywood and seeing Dancing with the Stars in person as the guest of Bristol Palin. (Bristol and I worked together on her New York Times best selling book, Not Afraid of Life! In a weird coincidence, I also work with Olympic gold medalist Shawn Johnson on her New York Times best selling book, A Winning Balance. Both ladies are contestants on Dancing with the Stars All Stars this season!)
Anyway, it was a great way for Camille to spend her Fall Break and I thought you might like to see some photos from our time there!
Believe or not, I'd never been to an "In n Out Burger." After we ate here, I took this photo with my iPhone which had a Romney 2012 cover. A man on the street saw my phone, and started following us down the street, using every expletive in the book. He followed us for blocks, until I decided to confront him. When I finally turned around, he bolted. Camille said, "That was every curse word I knew, and then some!"
PHOTO TWO: See the next photo of the Palins, other DWTS celebs, and more Hollywood fun!