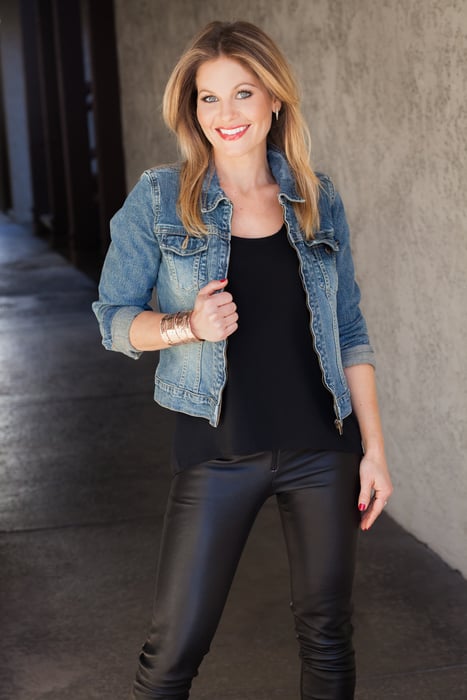 An exclusive guest post by Candace Cameron Bure
I began devoting my Monday and Tuesday nights to watching Dancing with the Stars the very first season it aired. I loved the show—how it followed the contestants' journeys in a positive light, and was a refreshing breath of fresh air for reality television.
I said to my husband that if I were asked to participate on the show, I would definitely consider it. He probably thought I was a bit crazy, but my ever-supportive Val replied with, "Do what makes you happy." 
So you can only imagine my excitement when, after years of producers calling my agent and the timing not being right, I received an official invitation to participate in season 18 of DWTS.
Complete joy. Overwhelming excitement. Instant anticipation.
Followed by waves of mom guilt.
I knew that the show was going to require me to be away from my kids a lot, even though I would still be close to home. I knew that even though I'd be here, I wouldn't be very available for them.
I had the dream. Now I had the opportunity to do it, but there was a tiny tug-of-war happening in my heart. Because of my kids, there were times I wondered if it was okay to pursue my dream. I wondered if I was being selfish by doing something that would require my family to step out of their comfort zones too, and I wrestled with how to know if this was something God really wanted me to do in this season of our lives.
This certainly wasn't the first time I had experienced mom guilt. We often face choices where we have to weigh an opportunity on one side of the scale and the potential impact on the people we care about on the other.
Will my kids be okay if I work these long hours?
Will my parents be disappointed if I chase my own dream instead of the dream they have for me?
Will my friends be hurt if I invest my time and energy into this project for a season, leaving less time to invest in our friendship?
I had to think through how to cope with mom guilt while pursuing a personal dream. This has looked different through various seasons of life, depending on the ages and specific needs of my kids.
Ultimately, for me in this season where my kids are active teenagers, I was able to jump over that hurdle by focusing on what I want my children to learn from me. After spending time in discussion with my husband and much prayer, this is what I decided:
I don't want to nurture my children into being unable or unwilling to be stretched out of their comfort zones.
I don't want my kids to be afraid to take the opportunities God gives them and use them to point others toward Him.
I don't just want my kids to hear what the Bible says; I want them to see it in action.
After all, Philippians 4:13 promises, "I am able to do all things through Him who strengthens me."
I knew that was true, and I wanted my kids to see it through my life! As teenagers, their emotional and spiritual needs from me may be at times a bit deeper, but they aren't so much wanting or needing me to take care of a lot of their daily physical needs. They could come along on the emotional and spiritual journey with me on DWTS and it would allow me to parent those areas of their lives even greater through my experiences.
I am confident that during my time training for and as a contestant on Dancing with the Stars, my kids saw God's strength in me as I competed with professionally trained dancers and gold-medal athletes. They know that it certainly wasn't the strength of this unqualified wife, mother and actress that carried me through!
When we step out in faith, our kids can only benefit. They see our conviction to live in faith, our obedience to trust and follow God's call, and His strength to pull us through. It won't be easy, and there will probably be a time or two when you doubt your decision, but your kids will be better for it. It's important to realize, though, that this looks different depending on the makeup of your individual family, the ages of your kids, and the needs of your kids. Find that balance, and then go hard after it.
So what is your dream? What marvelous, out-of-your-comfort-zone thing have you been dying to do, but your mom guilt has held you back?
I encourage you to take the leap and do it. Go back to school. Start the business. Take on a larger role at church or in your community. Do the big thing that God has put on your heart, so that He can give you the strength to do it!
Candace Cameron Bure is an actress, producer, New York Times' bestselling author, inspirational speaker, and Dancing With The Stars Season 18 finalist. Known to millions worldwide from her role as "D.J. Tanner" on the iconic family sitcom "Full House" and currently "Fuller House," her new book Dancing Through Life (August, B&H Publishing) is available now.