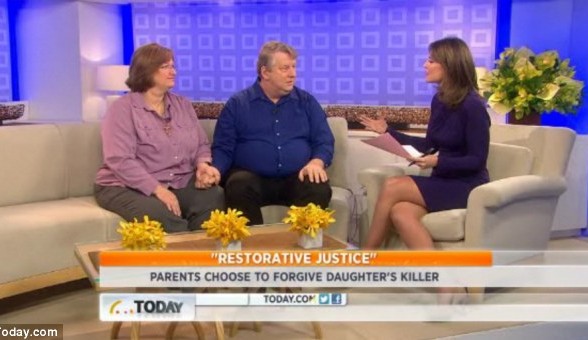 On March 28, 2010, Kate and Andy Grosmaire received two pieces of news that would change their lives forever.
The first was their worst nightmare: "Ann has been shot."
And the second was the dumbfounding addendum: "Conor was the one who shot her."
Their nineteen-year-old daughter had been killed by her boyfriend, a young man who had lived with the family and had come to feel like part of it.
In a beautiful, tragic testament to the liberating power of forgiveness, Kate Grosmaire tells the story of her daughter's murder at the hand of her boyfriend—and the stunning, deliberate forgiveness and help that Kate and her husband offered to the young man who shattered their world.
Part memoir, part spiritual testimony, Forgiving My Daughter's Killer is the story of a family whose faith was put to the test and so found the capacity to do far more than they could have thought or imagined.
Kate's new book, Forgiving My Daughter's Killer: A True Story of Loss, Faith, and Unexpected Grace
, is challenging readers across America.  Kate sat down to answer a few questions about what happened to her daughter and how she and her husband Andy both decided to forgive the shooter.
Q. You and Andy did not initially talk publicly about your loss of Ann and your journey with Conor. What changed and why did you decide it was time to share your story in this new book?
A: At first, it was difficult to see our daughter as a headline on the front page of the newspaper in a very personal life struggle. We didn't want our daughter's struggle to be sensationalized and we didn't want to participate in sensationalizing her story. When we decided to pursue restorative justice, we knew it was something foreign to most people—even we hadn't heard of it. Andy and I were spending this time ourselves learning about what restorative justice was; we hardly felt capable of going to the media to teach the world about it at the time. Until the case was resolved (Conor was sentenced), the story didn't have an ending. We always intended to share our story once there was a complete story to tell.
Q. Why is your story of forgiveness important to tell?
A. I believe that we are here on this earth to help one another through life. To share our burdens with one another, so that no one feels that they are all alone. Forgiveness brings healing and peace to the forgiver and having experienced that in such a profound way, I have to share the impact that forgiving Conor has made in my life.
Q. Some have called your and Andy's choice to forgive Connor, "radical," but you don't see it that way. Will you explain?
A. In the Lord's Prayer, we ask God for several things: our daily bread, deliverance from evil; but there is only one thing that we promise Him: to forgive others. We are simply doing what God requires of us. Through our work in the Healing Prayer Ministry, we had begun to practice forgiveness in our own lives. We saw the benefits of forgiveness and reconciliation in our own marriage. We understood that God doesn't want us to forgive one another to prove how radical we are as Christians, but to experience his mercy and grace in our lives.
Q. Why did you believe in redemption for Conor?
A. We loved Conor. We had seen that he was interested in coming to church and we tried to encourage him in learning more about God's Church. In a desperate moment, Conor made a horrible decision. We could not condemn him for that one moment of his life. He is so much
more than that one bad decision. How could we leave Conor in despair, without hope for the rest of his life? God would not want us to leave him there. If nothing good could come out of Conor shooting Ann, then we, too, could have fallen into despair. We knew that Conor deserved the chance to have a relationship with God.
Q. Though you pursued restorative justice for Conor, participation in the restorative justice circle with Conor and his parents was further life changing and incredibly painful. How was the process different than you envisioned and did it cause you to doubt your decision at any point?
A. We wanted to participate in the justice process. We didn't need the state of Florida to "spare us" the burden of being an advocate for Ann. As her father, Andy considered it his responsibility. He also wanted to know what happened that day, what her last words were. He expected that some sense could be made of it, or that he could see where he could have made a difference in what happened. And though hearing the details was painful, not knowing, only imagining what had happened was much worse.
I had a sense of a greater purpose to what we were doing. We were offering an alternative way of handling the criminal justice process. I had hopes that we would leave the circle with a sentence for Conor that we had all agreed on, but in retrospect I see the wisdom of what the state attorney did. We never doubted our decision to pursue restorative justice. This wasn't a race with a finish line, it was opening a door to new possibilities.
Q. You write about wanting a "meaningful sentence" for Conor. What constitutes a "meaningful sentence" for an offender?
A. We didn't want a shorter sentence for Conor just for its own sake. I have heard that that only 4 out of every 100 inmates has a job inside Florida prisons. This means that there was a 96% chance that Conor could spend his time in prison doing nothing but sitting in his cell all day. That is not meaningful. Conor can't restore Ann's life, but he can work to do the good work she would have done. Offenders should be given the opportunity in every circumstance to repair the harm they have done. Lengthy prison terms do nothing towards this goal. Our hope was that Conor would spend half his sentence incarcerated and then the other half working in the community, doing the good works that she would have done in her life.
Q. You say that "forgiveness isn't an event, it's a lifestyle." What do you mean by that statement?
A. When we initially forgave Conor, we didn't have the full details of what had happened that day. Once we knew, we consciously reviewed all the things that had happened and made sure that the forgiveness was still there. Many times I feel sad over the loss of my daughter, especially around the holidays. I remind myself that I have forgiven Conor. This helps me. I will always be sad over her loss, but forgiveness brings me peace.
Q. Discuss the effect crimes have on the community.
A. Even with being the capital of the state and having two universities, Tallahassee has a small town feel with a low crime rate. The first effect of crime is creating a sense of fear and dis-ease. And when our response to crimes is to lock up as many people for as long as possible, we are tearing apart the fabric of our community. It's not just victims who feel less safe. Neighbors are affected. And the offenders who are sent to prison are separated from their families. Men can no longer provide for their children. Children grow up without their parent. Ninety-three percent of those incarcerated will return to the community. We need to do more to reincorporate these people back into our community.
Buy Kate Grosmaire's new book,
Forgiving My Daughter's Killer: A True Story of Loss, Faith, and Unexpected Grace
, by clicking on the image below.