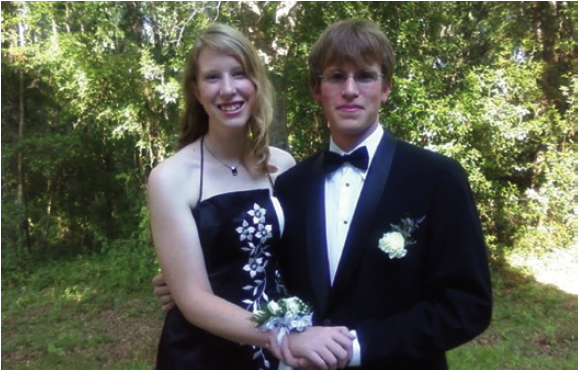 On March 28, 2010, Kate and Andy Grosmaire received two pieces of news that would change their lives forever.
The first was their worst nightmare: "Ann has been shot."
And the second was the dumbfounding addendum: "Conor was the one who shot her."
Their nineteen-year-old daughter had been killed by her boyfriend, a young man who had lived with the family and had come to feel like part of it.
In a beautiful, tragic testament to the liberating power of forgiveness, Kate Grosmaire tells the story of her daughter's murder at the hand of her boyfriend—and the stunning, deliberate forgiveness and help that Kate and her husband offered to the young man who shattered their world.
Part memoir, part spiritual testimony, Forgiving My Daughter's Killer is the story of a family whose faith was put to the test and so found the capacity to do far more than they could have thought or imagined.
Kate's new book, Forgiving My Daughter's Killer: A True Story of Loss, Faith, and Unexpected Grace
, is challenging readers across America.  Kate sat down to answer a few questions about the process of "restorative justice" and how it actually empowers the victim.
Q. What prompted you to look into the process of restorative justice and how did you come to decide that was the process you wanted to pursue on behalf of Conor?
A. Through our forgiveness, Conor came to feel the love of God and began to seek a relationship with him. We wanted to do what we could to foster that and we thought the best thing would be to try and get him into a character- and faith-based prison. It was the Episcopal priest assigned to the prison, Father Allison DeFoor who told us to "google restorative justice." As Andy read about it and shared the principles with me, it seemed like what we wanted: an opportunity to sit down with Conor and tell him about the impact of losing Ann in our lives and to give him the opportunity to express his remorse over what had happened and then to participate in creating a meaningful sentence for Conor with conditions of probation that included anger management for him as well as community service.
Q. You discuss the "adversarial" role of the traditional criminal justice system. Will you explain how restorative justice differs from the traditional criminal justice system?
A. The traditional criminal justice system is a battle between the prosecutor and the defense attorney. Offenders are counseled to say nothing, never admit guilt, ever. They may even feel sorry for what they've done, but they are not allowed to offer an apology. How many time do we read that the offender just stood silently staring while a verdict was read? They've been told to do this. On the other side is a state attorney promising to try and get the lengthiest sentence and setting that as the standard for how you know that justice has been served. Meanwhile, the victim is left powerless with no voice. Plea bargains are worked out without input from the victims. In restorative justice, victims benefit from facing the offender and sharing the impact of the crime: the sorrow over the loss of a sentimental jewelry item, the fear they now have walking alone. The offenders experience empathy and have the opportunity to accept responsibility for their actions. All this makes the offender a better citizen when they return to the community.
Q. Many may find it challenging to wrap their minds around your fervent support of restorative justice. Why has educating others about this process become a lifelong pursuit for you?
A. Restorative justice helps victims, even if they do not forgive the offender. We need to tell our story, to have others understand what we have been through. It helps the healing process. Restorative justice also requires the offender be accountable for their actions. It helps to build character. We cannot continue to label people "criminals" even after they have served their sentence and continue to treat them as less than deserving of a normal life. This is not the way to live in community. Restorative justice is a compassionate response to conflict. It builds community rather than destroys it.
Q. As crime victims yourself, some may find your opinions about the "brokenness" of America's criminal justice system surprising. How and why do you feel the system is broken?
A. In Florida, we have the Department of Corrections. However, very little is done to correct the behavior of the inmates. Men and women are sent to prison where they most likely will not have a job or job training and they will not have access to programs like anger management classes or to mental health counselors. It's a punitive system that leaves an "ex-con" very few skills except the ones he entered prison with. Once released, we restrict where he can work, where he can live. We must change how we view these men and women. We have to connect to their humanity—see them as children of God, needing and deserving of our love and care.
Q. Discuss God's call for Christians to forgive as well as support the incarcerated.
A. Forgiveness is so important that it is the one thing we promise God we will do in the Lord's Prayer: "…as we forgive those who trespass against us." Just afterwards, Jesus cautions us: "If
you forgive others their transgressions, your heavenly Father will forgive you. But if you do not forgive others, neither will your Father forgive your transgressions." Our Heavenly Father is ready and waiting to offer forgiveness to us, but we have to have a heart of forgiveness as well. A heart filled with bitterness and anger towards others can't receive the Father's mercy.
Jesus also tells us that at the final judgement, we will be asked a series of questions including whether we visited those in prison. If we fed the hungry and sheltered the homeless, maybe it will be okay that we didn't also visit the incarcerated. But the king thought it was important enough that he included visiting prisoners in the list. Jesus is keenly aware of the "least" in our community: the hungry, the homeless, the sick, the imprisoned. He wants us to be keenly aware of them and their needs as well. He is telling us: "See me in them."
Q. The idea of forgiveness is sometimes confusing to a victim. Discuss the differences in forgiveness, reconciliation and pardoning?
A. What holds people back from offering forgiveness? You think that offering forgiveness means you are offering a pardon, meaning what the other person did wasn't wrong or that it doesn't matter that you were hurt. Yes, one definition of "pardon" is forgiveness, but in a legal sense pardoning means "the release from the legal penalties of an offense." This is what we mean when we say that forgiving Conor did not mean a pardon. He still had to face the legal consequences of the crime that he committed. Even if no crime was committed, the offender still must deal with the consequences of their actions and that may mean breaking the relationship.
Forgiveness can be "one-sided." The other person doesn't even have to be aware that you have forgiven them. Forgiveness is releasing them from the debt that they owe you, whether what you were owed is respect, or a feeling a safety, or even love. That does not give the person permission to keep hurting you. If the relationship has been broken, then the offender must admit that what they did was wrong and work to repair the relationship. If they can do that, then you have reconciliation, something completely different from forgiveness.
Q. The Bible says "God works for good in all things." How has God used your tragedy for good? What was God's ultimate plan for Ann and how is your purpose now tied to this and her legacy?
A. I think God's plan is the same for everyone: to love one another as He loves us. God wants us to choose love. Ann loved animals and the world would have been a better place had her love come to fruition in a vocation dedicated to their care. People who know that this was her love have donated money to our local Wildlife Refuge and Humane Society. The love continues. More people know about restorative justice and are asking if it can be used in their communities and schools. We support the efforts of restorative justice through the Ann Grosmaire Be the Change Fund. More facilitators and teachers can be trained in restorative justice practices. We share our story of forgiveness and mercy whenever possible. Sometimes it inspires people to choose to forgive and ask for forgiveness. The love continues. This is our Christian legacy, to love one another.
Q. What do you hope readers will come away with from reading this memoir?
A. That God took an ordinary people from diverse faith backgrounds and brought them together to reveal his message of love and forgiveness. That church is more than just an hour of worship on Sunday. Church is your community of fellow believers who will love and support you in joy and in sorrow. We long to live in community.
Forgiveness is not a pardon and it's not permission to do harm again. Forgiveness frees the person who forgives. Forgiveness can provide a place for the offender to accept responsibility
for their actions and seek reconciliation. Restorative justice is a way for us to connect as a community to repair harm and to build a loving, caring community.
Q. What do you say to others who struggle with the idea that bad things happen to good people?
A. We are not promised an easy life here on earth. We live in a fallen world created by sin. How many times as children do we cry out that life isn't fair? Over and over, Jesus calls us to love one another—even our enemies—and to forgive one another. He knows that this is how we deal with the unfairness of the world.
Buy Kate Grosmaire's new book, Forgiving My Daughter's Killer: A True Story of Loss, Faith, and Unexpected Grace
, by clicking on the image below.