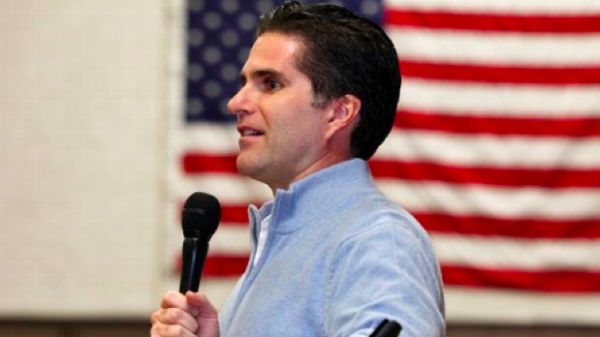 UPDATE: Tagg is not it.
"I have been humbled by the outreach I received this weekend encouraging me to become a candidate," Romney wrote in an e-mail to reporters. "I love my home state and admit it would be an honor to represent the citizens of our great Commonwealth. However, I am currently committed to my business and to spending as much time as I can with my wife and children."

"The timing is not right for me," he added. "But I am hopeful that the people of Massachusetts will select someone of great integrity, vision, and compassion as our next U.S. Senator."
This weekend, a Drudge headline asked whether Ann Romney might run for Senate in Massachusetts, during the special election to fill the seat left vacant by John Kerry's departure. The gossip today is that Tagg Romney, the oldest son of Mitt and Ann — might be considering running for that office.
ABC says these rumors are unsubstantiated:
Two sources close to both Tagg and his father Mitt tell ABC News it's not going to happen. One consideration for Tagg Romney may be that his father lost the Bay State in last year's presidential election by 23 points.

"I think Tagg would be a great candidate," a source close to both Romneys said. "He grew tremendously in the campaign, but with his company it's unlikely he can afford to walk away from it right now, sadly."

Tagg Romney, 42, started the venture capital firm Solamere Capital after his father's last unsuccessful campaign in 2008. In both campaigns he advised his father and worked hard to get his dad to the White House. During this run he had an even more critical role.

Tagg Romney and his wife Jen had twin sons via a surrogate in May, juggling newborns as well as a presidential campaign.

A Republican strategist with knowledge of state party discussions also told ABC News he seriously doubted the likelihood of any Romney candidacy in the upcoming Senate election.

Brown may have stunned his party last week when he decided not to run leaving them scrambling, but some of those same issues had to weigh on the younger Romney too. Any candidate who runs in the special election will have to run again in 2014. And to make the ballot, candidates must gather 10,000 certified signatures in just four weeks.

So who will run on the Republican ticket?
However, National Review's Katrina Trinko reports that Tagg "…is seriously considering making a Senate run in Massachusetts — and expects to decide one way or another soon."
What do you think about another Romney campaign? Which Romney would you like to see on the campaign trail?