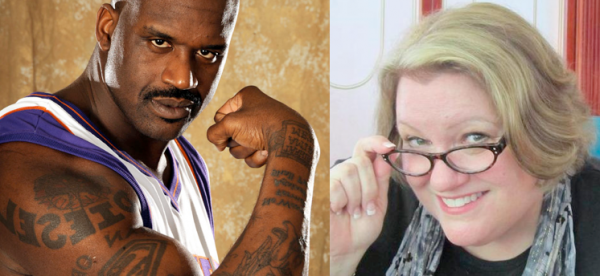 What would happen if you could put Shaquille O'Neal in the same room as Elizabeth Scalia?
That's what I was thinking as I was reading through Scalia's new book, Strange Gods: Unmasking the Idols in Everyday Life.  I recently moved and face a 45 minute drive with my kids to drop them off at school, so we each select an audio book for the morning drive.  After The Hunger Games (my pick), my teenager picked "Shaq Uncut: My Story," which is a fascinating tale of how the big guy became a Laker, got into it with Kobe Bryant, and went through a million dollars in ten minutes.
How?  Well, he bought three Bentleys because the salesperson was rude to him and Mike Tyson happened to be there buying two — caused us to pause and discuss materialism, wealth, and pride.  Because of his enormous size, he couldn't even squeeze in the drivers' seats, but the million dollars was gone.
"That doesn't even sound fun," my daughter – a huge Shaq fan – said.
With that book on my mind, I began "Strange Gods," which is an exploration of idols in everyday life and how to rid oneself of their power and effect.  Scalia writes about the very first of the Ten Commandments, found in Exodus 20:3.
You shall not have strange gods before Me.
"Do we stop to think of what it means to have something 'before God?'" she writes.  "It means to put something first, yes, but more fundamentally it means to put something 'in front of' God as one might put a screen in front of a fireplace and therefore put it 'before" the fire.'"
What kinds of things do we put "in front of" God?
You name it.
The beauty of "Strange Gods," is that it gently uncovers the layers of idolatry that reside unnoticed in our hearts.
As I was reading, I realized I idolize any number of things, and even though I attend a Presbyterian church regularly.  Scalia is a Catholic "oblate," which – I promise — I meant to look up.  Shaq is "religiously ambiguous" with his Muslim name, a Christian grandmother, and some Phil Jackson borrowed Buddhist inspiration. However, people of all faiths would benefit from spiritual conversation like the one I imagine in my dream scenario involving Scalia and Shaq. Though many of us haven't bought luxury cars we can't use to show up a boxing legend, I bet most of us would fall victim to the sudden onset of wealth, romantic opportunities, and fame in various other ways.  In fact, Scalia gets down and dirty, messing with the idols that live happily in our souls.
Scalia lives modestly.  She doesn't own leather shoes or a handbag.  However, her relatively non-materialistic ways actually have become an idol in her own life and marriage.  When she bought a hammock for her husband, she lamented that he'd kept it in pristine condition.  He loves it so much that he won't let it stay out in the rain.  Eventually, after hauling it in and out so many times, he leaves it inside – safe, protected, useless.
That's what idolatry looks like in their lives, according to Scalia.  Here's a quick quiz. What is her husband idolizing?  No, not money or thriftiness.  She contends that her husband's antics with the hammock indicate he idolizes "forever."  He doesn't want the hammock to age, because of what he might indicate about his own age.   She warns "holding onto anything too tightly – our lives and the stuff in it – will prevent us from being able to open ourselves up to him…  We can't reach out to the real God while holding the false ones so tightly to our chest."
In my dream conversation between Scalia and Shaq, I'd love to hear him relay this anecdote, which was included in his memoir:
One of the things I invested in when I first got to Orlando was some coin-operated car washes. We were doing really well, making a lot of money, but one day Lester called me up and told me the numbers weren't matching up. The profits we should have had were not the same numbers that were being deposited in the bank.

"Don't worry, Lester," I told him, but he was freaking out about it. He even flew to Orlando to discuss it with me. He calculated we were missing almost a quarter million dollars.

It took me awhile, but I finally came clean with him, I showed Lester my bedroom, where there was a whole bunch of wooden rain barrels full of quarters.

Lester said, "Shaquille, what the hell is this? Is this the missing money?"

"Yes", I admitted. "Lester, I can't help it. I like seeing my money. Come here, run your fingers through all these quarters. It's awesome."
I guess we'll only have to imagine Scalia's words of advice. Though Shaq is a force of nature, one gets the feeling while reading Strange Gods that someone like Scalia would be able to hold her own against him.  Far from being a scold, she presents the truth, then delves a little deeper into our hearts.  By using her own failings as examples, she shows us how easy it is to fall victim to idolatry.  Would an honest and frank conversation with the NBA legend provide Shaq with some sort spiritual epiphany?
Who knows?
But it's fun to imagine her explaining her ideas on money in the same room piled with $250,000 worth of quarters.
Strange Gods is simultaneously meddlesome and liberating.  Scalia calls these strange gods by name, one by one showing you the ways you are hurting your relationship with God and with others.
In a word, it's Shaqtastic.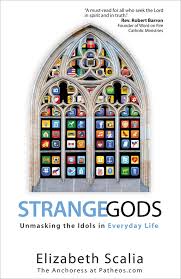 CONTEST CLOSED: BOOK WON BY @CindyMcg via Twitter!  Congratulations, Cindy!
For more conversation on Strange Gods: Unmasking the Idols in Everyday Life and to read a book excerpt, visit the Patheos Book Club here.
Also, tweet us  to win your own copy of Elizabeth's book using
#StrangeGods @SixSeedsTV @TheAnchoress 
Or, leave a comment below for a chance to win!
We'll select the winner randomly on June the 6th!