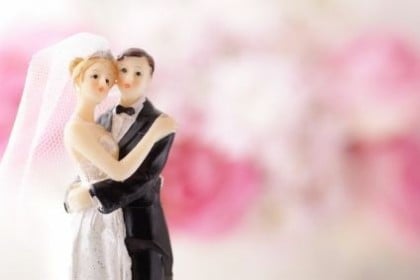 Mike Tierney pointed out this 2009 article  about marriage that I thought I somehow missed the first time around.  Anyway, I found it particularly touching…  by Laura Munson:
Let's say you have what you believe to be a healthy marriage. You're still friends and lovers after spending more than half of your lives together. The dreams you set out to achieve in your 20s — gazing into each other's eyes in candlelit city bistros, when you were single and skinny — have for the most part come true.

Two decades later you have the 20 acres of land, the farmhouse, the children, the dogs and horses. You're the parents you said you would be, full of love and guidance. You've done it all: Disneyland, camping, Hawaii, Mexico, city living, stargazing.

Sure, you have your marital issues, but on the whole you feel so self-satisfied about how things have worked out that you would never, in your wildest nightmares, think you would hear these words from your husband one fine summer day: "I don't love you anymore. I'm not sure I ever did. I'm moving out. The kids will understand. They'll want me to be happy."

But wait. This isn't the divorce story you think it is. Neither is it a begging-him-to-stay story. It's a story about hearing your husband say, "I don't love you anymore" and deciding not to believe him. And what can happen as a result.

Here's a visual: Child throws a temper tantrum. Tries to hit his mother. But the mother doesn't hit back, lecture or punish. Instead, she ducks. Then she tries to go about her business as if the tantrum isn't happening. She doesn't "reward" the tantrum. She simply doesn't take the tantrum personally because, after all, it's not about her.

Let me be clear: I'm not saying my husband was throwing a child's tantrum. No. He was in the grip of something else — a profound and far more troubling meltdown that comes not in childhood but in midlife, when we perceive that our personal trajectory is no longer arcing reliably upward as it once did. But I decided to respond the same way I'd responded to my children's tantrums. And I kept responding to it that way. For four months.

"I don't love you anymore. I'm not sure I ever did."

His words came at me like a speeding fist, like a sucker punch, yet somehow in that moment I was able to duck. And once I recovered and composed myself, I managed to say, "I don't buy it." Because I didn't.

He drew back in surprise. Apparently he'd expected me to burst into tears, to rage at him, to threaten him with a custody battle. Or beg him to change his mind.

So he turned mean. "I don't like what you've become."

Gut-wrenching pause. How could he say such a thing? That's when I really wanted to fight. To rage. To cry. But I didn't.

Instead, a shroud of calm enveloped me, and I repeated those words: "I don't buy it."
Read what happened here.
Read more on the Patheos Faith and Family Channel and follow Nancy on Facebook, Twitter, and Instagram!