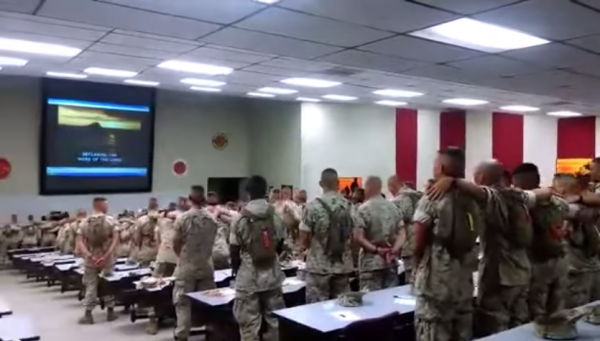 These men are not afraid of singing and dancing in worship to God.
This is an awesome video of nearly 500 Marines at Camp Pendleton singing the praise song "Days of Elijah." It's an amazing sound. Some of them got really into it, putting their arms around each other and whole rows moving together in time to the music. They even had motions for the chorus!
Merrie Pardee Baldwin is the one who took the video. She and her husband Jim go to Camp Pendleton every month to help with voluntary worship services and hand out thousands of cookies. Merrie posted the video to Facebook last year, hoping to remind people to pray for the military.
I'm glad there are people like the Baldwins who encourage the men serving in our military in their faith. I'm so thankful for the sacrifices the Marines and all branches make for our safety. Say a prayer for them today – and find a vet or military to thank!
Read more on the Patheos Faith and Family Channel, follow Nancy on Facebook, Twitter, and Instagram!