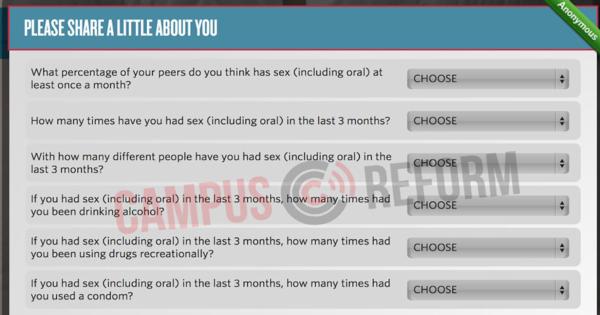 UPDATE, from Campus Reform:
USC Senior VP for Administration Todd Dickey apologized Tuesday for the questions contained in the school's mandatory Title IX training course.
Dickey also stated that the inappropriate sexual history questions would be removed from the training.
Read more here.
ORIGINAL ARTICLE:
Behold, the state of higher education.
University of Southern California students must reveal all of their sexual experiences that occurred within the past three months, before being allowed to register for classes:
"This course is mandatory, and you must complete it by February 9, 2016. If you do not complete the training by this date you will receive a registration hold until the training is complete," an email from the administration explaining the mandatory course on Title IX stated.
According to Campus Reform, here's how the questionnaire reads:
The course begins with a detailed questionnaire that asks students to reveal how often they are having sex and using drugs or alcohol. The survey also asks students to specify the number of sexual partners they have had in the past three months.

After revealing both the number of times they have had sex and with how many different people, students are then asked to state whether or not they used a condom.

"If you had sex (including oral) in the last 3 months, how many times had you used a condom?" the survey asks.

The questionnaire also asks students to discuss their drinking habits and encourages students to avoid "pre-gaming" and "blacking out."

After completing the questionnaire, students were then walked through a two-hour interactive lesson on sexual assault, consent, and substance abuse. In one case, students were told that a sexual partner who has had too much to drink cannot give consent. However, in a different scenario, the course shows a video of a man and a woman who are both drunk and engaging in sexual activity. The video, according to Ellenhorn, blames the man for sexually assaulting the woman.
I guess, according to university standards, women can't sexually assault men?
Anyway, this is the state of higher education, today, folks. As David French wrote in National Review:
America's universities are becoming a fundamentally toxic presence in our national culture. Possessing every possible advantage — a young, disproportionately wealthy base of students who come from disproportionately intact and functional homes, generations of goodwill accumulated through centuries of community influence, and vast economic power through endowments worth cumulatively hundreds of billions of dollars (the top ten endowments alone are worth more than $150 billion) — they have squandered these assets in efforts to create a leftist utopia, a "utopia" that could well tear this nation apart.


Order my next three books on Amazon:
X
Read more on the Patheos Faith and Family Channel, follow Nancy on Facebook, Twitter, and Instagram!