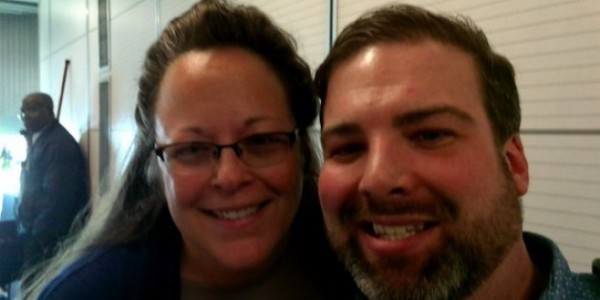 Frequently, people just aren't as bad as the media makes them out to be.
This apparently was the case when a gay man noticed Kim Davis — the Kentucky clerk that refused to issue same sex wedding licenses — on an airplane during a recent trip. Here is Ben Mann's account:
As I sat in seat 26C on my American Airlines flight connecting from Charlotte to Washington Reagan National Airport, I glanced up and instantly recognized infamous Kentucky County Clerk, and national icon of the Religious Right, Kim Davis as she passed me boarding the same flight. It was reported later that she came to Washington as part of a political group to attend the State of the Union Address at Congress the following evening.

All the oxygen left my body. Here within the touch of my hand had been a woman whose sole employment now was to openly mock and fight the rights and recognitions that so many of my friends and I had fought earnestly to achieve. I attempted not to stare, instead looking down, then left, anywhere that would allow me a personal moment to process this event. My enemy was ever present, and I didn't know what to do.

Tray tables went up, engines roared, and soon we were in the air. I got up to use the restroom – an activity I have volunteered to do on a plane maybe twice before, but it was the only way to catch an innocent glimpse of her, again. My eyes panned back and forth searching for her. I failed. I returned to my seat morbidly curious and unsettled.

… as the captain announced our decent into DCA, I hatched a plan. I would walk to about mid-way down the sky bridge and wait for her. I would wave her down and say… Oh my God, what would I say?!? The oxygen left my body, again. I began to run scenarios through my head. Keep it simple, Ben. Tell her how you feel. Three seconds.

… Waving my hand in the air. "Hi, Miss Davis? Can I take a picture with you?" She agreed. We leaned in for a selfie – the most modern human activity of which I can think. I quickly stated, "Miss Davis, my name is Ben. A lot of what you've done has hurt many of my fellow LGBT Christians and beyond, but I want you to know that I offer you the Peace of Christ." I extended my hand so as to shake hers.

Blank faced, either from being stunned or afraid, she lightly grabbed my hand and said, "God bless you." She quickly turned and walked away to a waiting group.
I doubt Kim Davis — who defied the Supreme Court — was really "stunned" or "afraid" of this guy. She seems to have a spine made of steel. But what I love about this exchange is that Ben had the courage to speak to her lovingly, and that she had the grace to do so in response.
Honestly, I think if we had the chance to sit down together to chat instead of interacting online, we'd actually quite frequently get along. May we all seek out opportunities to really engage with people perceived to be our "enemies" and may we treat each other with love and grace.
God bless us all.
Order my next three books on Amazon:
X
Read more on the Patheos Faith and Family Channel, follow Nancy on Facebook, Twitter, and Instagram!