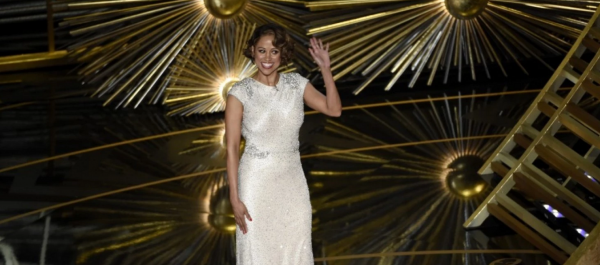 Well, that was awkward.
That was the Twitter sentiment when Stacey Dash surprised Oscar attendees by walking out onstage as the new "Academy Director of Diversity Outreach." Watch what has been described as the most "cringeworthy" moment of a rather bizarre evening, went down like this:
But why was everyone so perplexed?
There could be a couple of explanations. Maybe they weren't aware of Stacey's recent comments about Black History Month and the Oscar diversity controversy. (Stacey explained it HERE.)
More likely, however, that sound that you heard at the Oscars was not the sound of a joke flopping. Rather it was the sound of "tolerance and diversity" in Hollywood really.
Hollywood wants to envision itself like Rudy Huxtable's playgroup – they want their actors and actresses to be Asian, black, redheaded or blond. They want the illusion of diversity, tolerance and open- mindedness, even though they're much less ideologically diverse than your average suburban megachurch. As Hollywood grapples with its "diversity problem," they are aspiring to add minorities to major roles.
That still misses the point.
Yes, black actors and actresses should have more roles. (Take a note from Hamilton the musical, guys.) But, if you have a Hollywood cast that looks different and THINKS EXACTLY THE SAME, that's not real diversity. Chris Rock pointed it out quite nicely last night during his opening monologue.
Now, I remember one night I was at a fundraiser for President Obama, a lot of you were there, and, you know, it's me and all of Hollywood. And all the, you know, it's all of us there and there's about four black people there, me, let's see, Quincy Jones, Russell Simmons, Questlove, you know, the usual suspects, right? And every black actor that wasn't working. Needless to say, Kevin Hart was not there, okay? So, at some point, you get to take a picture with the President.

And as they're setting up the picture, you get a little moment with the president, I'm like, "Mr. President, you see all these writers and producers and actors? They don't hire black people. And they're the nicest white people on earth. They're liberals."
So, in their absolute thirst for different varieties of skin tone, they miss out on the one type of diversity that would make it truly interesting: ideological diversity. What if, for example, white Hollywood liberals aren't the "nicest white people on earth?" Since Rock and his friends probably don't ever come in contact with conservatives, they'd never know. Last night, you witnessed a rare instances when they did encounter a conservative, and that's when their 'open-mindedness' really kicks in.
That's what made America cringe as they watched the Oscars last night. It wasn't a joke that fell flat, it was a moment that revealed just how unwilling Hollywood is to embrace anyone who thinks differently.
Rock was right. Everything is not about sexism or racism.
Sometimes, it's just about ideological and political elitism.
I guess that truly is cringeworthy, after all.