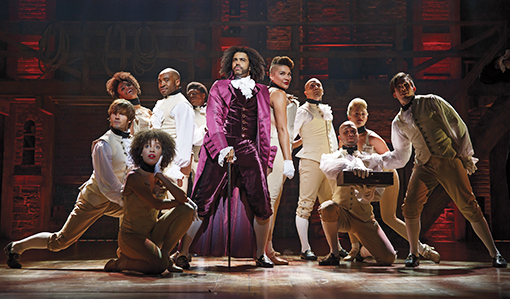 She was humming a show tune.
"I've never been to New York," my daughter's friend Emily said, when I asked her if she'd seen the show.
"I just know all of the music, but I haven't seen the actual shows."
So I made an offer.
"Let's go to New York, for one weekend — on the cheap. We'll fly Southwest, use hotel points, and only get TKTS tickets — none in advance. Whatever we see, we see." (The TKTS booth in Times Square allows you to get half price tickets on shows that are available at the last minute.)
It was a deal.
But there was this nagging issue. The girls had memorized the soundtrack of Hamilton, a new musical about the life of Alexander Hamilton our Founding Father.
Oh, and the songs were rap.
The show was written and composed by freestyle rapping savant Lin-Manuel Miranda (who also stars as Hamilton).
Watch him record a message on Jimmy Fallon's phone:
Now, imagine that sort of energy and fun applied to the American Revolution.
Miranda's show, based on the biography written by Ron Chernow, is now THE hottest ticket on Broadway, having pre-sold $10 million in tickets.
As a surprise for the girls — who wouldn't be pleased if their teens wanted to see a Broadway show about a Founding Father? — I bought tickets on StubHub. They were, by the way, the most expensive tickets I've ever bought for a Broadway show but I was hoping it would be worth it.
When I told the girls, they cried.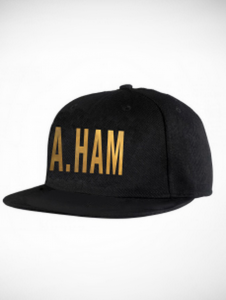 An odd amount of enthusiasm for a musical based on a founding father I thought. I'd soon find out why. When we got to New York this weekend, we walked to the theater a couple of hours early, just to eyeball the location. To my surprise, there were about 700 people already there. The crowd was energetic and loud — blocking off traffic almost completely — as the show gave away 21 front row tickets for $10. (Yes, the lucky winners had the chance to buy the tickets, but they had to use a crisp bill with Hamilton's face on it.)
As an added bonus, the crew members sometimes come out to surprise the people who've stood in line for hours for the lottery, in bits called #Ham4Ham. Tonight, for example, this was what happened. (And by the way, a bus was coming down the street, narrowly missing the people crowding around to hear the… spoken word poet. Yes, this is New York at it's greatest. Then, an ambulance came down the street and people wouldn't budge because they didn't want to miss a word.)
The poet Sarah Kay was tonight's gift for the fans:
(By the way, what an amazing poem for young women to hear! Worth the trip.)
But what about the actual musical? To witness the care, attention, and musical playfulness Miranda brought to honoring Alexander Hamilton was staggering.
It's sort of hard to describe.
Thomas Jefferson looks like a larger, 1980s version of Prince — but with an afro. Policy is debated in rap duels. Aaron Burr brings you to tears.
Ben Brantley in The New York Times, said it this way:
"I am loath to tell people to mortgage their houses and lease their children to acquire tickets to a hit Broadway show. But Hamilton, directed by Thomas Kail and starring Mr. Miranda, might just about be worth it…. Washington, Jefferson, Madison – they're all here, making war and writing constitutions and debating points of economic structure. So are Aaron Burr and the Marquis de Lafayette. They wear the clothes (by Paul Tazewell) you might expect them to wear in a traditional costume drama, and the big stage they inhabit has been done up (by David Korins) to suggest a period-appropriate tavern, where incendiary youth might gather to drink, brawl and plot revolution."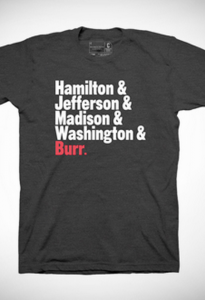 When the curtain went down, the girls ran out to get autographs of the very gracious cast. (As an added bonus, I went to get Sharpies for their autograph seeking and noticed Elon Musk walking right beside me with a Hamilton playbill in his hand! Musk, as you know, is the billionaire polymath who created Tesla Motors, Paypal, and Space Exploration Technologies.)
The show was not a light-handed, funny version of American history which will appeal to kids. It was a poignant exploration of destiny, reputation, faithfulness, courage, and forgiveness.
If you are going to the show, you might want to read the book that started it all (Click on covers to purchase):
Or buy the soundtrack:
But I warn you. If you listen to the soundtrack, you might end up memorizing all the lines and spontaneous burst into song about American history. This is Emily and Camille singing Thomas Jefferson's lines, as we waited for the musical to start:

I'm still in New York, but I wanted to let you guys know about this surprisingly patriotic, uncynical, honest portray of the men and women who made this nation great.
"HAMILTON IS ONE OF THE MOST EXHILARATING EXPERIENCES I'VE HAD IN THE THEATER. BOLD, ROUSING, SEXY, TEAR-JERKING AND HISTORICALLY RESPECTFUL — THE SORT OF PRODUCTION THAT ASKS YOU TO THINK AFRESH ABOUT YOUR COUNTRY AND YOUR LIFE."

—David Brooks, The New York Times
Read more on the Patheos Faith and Family Channel, follow Nancy on Facebook, Twitter, and Instagram!