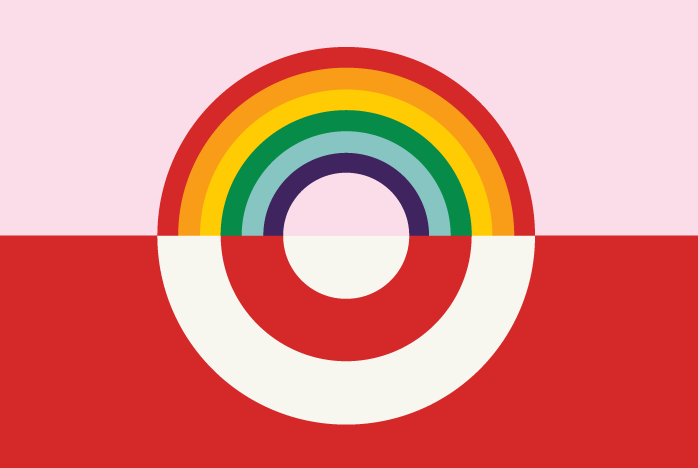 Target Brands, Inc. has jumped on the transgender bathroom bandwagon telling its customers and team members to head on into whichever facility they please.
The major retail chain released a statement, "Continuing to Stand for Inclusivity," along with a newly designed logo (seen above) that cuts its trademark bullseye in half and completes the circle with a rainbow to represent the LGBT community.
It reads:
We believe that everyone—every team member, every guest, and every community—deserves to be protected from discrimination, and treated equally. Consistent with this belief, Target supports the federal Equality Act, which provides protections to LGBT individuals, and opposes action that enables discrimination.

In our stores, we demonstrate our commitment to an inclusive experience in many ways. Most relevant for the conversations currently underway, we welcome transgender team members and guests to use the restroom or fitting room facility that corresponds with their gender identity.
Then Target proudly proclaims its inclusive environment:
Inclusivity is a core belief at Target. It's something we celebrate. We stand for equality and equity, and strive to make our guests and team members feel accepted, respected and welcomed in our stores and workplaces every day.
But does that "inclusivity" cover those of us who feel very uncomfortable sharing a bathroom with a biological man or exposing our daughters to potentially dangerous predators? Because I'm starting to feel excluded.
Yet, they still promise:
Everyone deserves to feel like they belong. And you'll always be accepted, respected and welcomed at Target.
Again, I don't think "everyone" really means everyone in this case.
And what is most perplexing is that with this announcement, Target is alienating more of its customers who disagree with their policies than the micro percentage of the population the policy is supposed to benefit. This seems like a move that is really going to cost them customers, but it doesn't appear they care.
How's that for making everyone "feel like they belong."