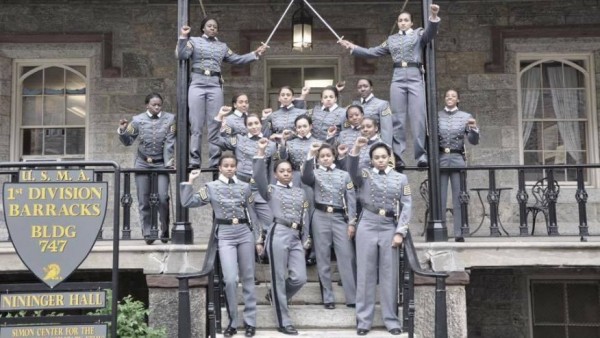 What is a logical interpretation of a group of white people standing with their rigid arms held slightly angled above their heads, palms flat and pointed to the ground? A Nazi salute. What is a logical interpretation of a group of black people raising their clenched fists? Black power… unless you're a leftist.
A photo has emerged of 16 black female West Point cadets who are curiously posed with their fists raised in the air, which most people immediately conclude it to be a political statement most closely associated with the "black power" gesture. That's what the Army believes, too, and has launched an investigation as to why these cadets would pose in such a way when it's against Defense Department directives to make political statements while in uniform.
On the other hand, some leftists think it's merely an innocent pose meant to express "strong, confident women," as The Washington Post described.
Is that what these women are expressing below? Are they just strong and confident, or are they making a political statement?
This is pretty clear cut.
David French explains exactly why it's so important to never appear to be making a "partisan or nonpartisan political statement in uniform." No matter how "innocent" it may seem, respect the uniform:
Wearing the uniform of your country is a privilege and a sacred trust. It is not a cadet's platform for attention-seeking and statement-making. The Army should investigate and respond according to the law and the evidence — and not according to the latest trends in liberal intellectual fashion. If the cadets were intending to make a politically-charged statement, then they must be punished in the same manner as any other cadet. If not, then they should be sharply warned to use good judgment and common sense in the messages they broadcast to the world.