Stunned.  Thats really the only way i can describe the last few hours.  As soon as I saw the White Smoke the Pastor and I ran – Literally RAN to the church and rang the bells.  They peeled for over an hour, until after Francis appeared.  There is just so much to absorb.  That it was THIS man, that he chose THIS name, that he asked for the people to pray the Lord to bless him.  Remarkable.  So many firsts.  We give thanks to almighty God because he has given us a Pope.  A holy Pope.
This morning I said the 9am Mass.  I said the Mass "For the Pope".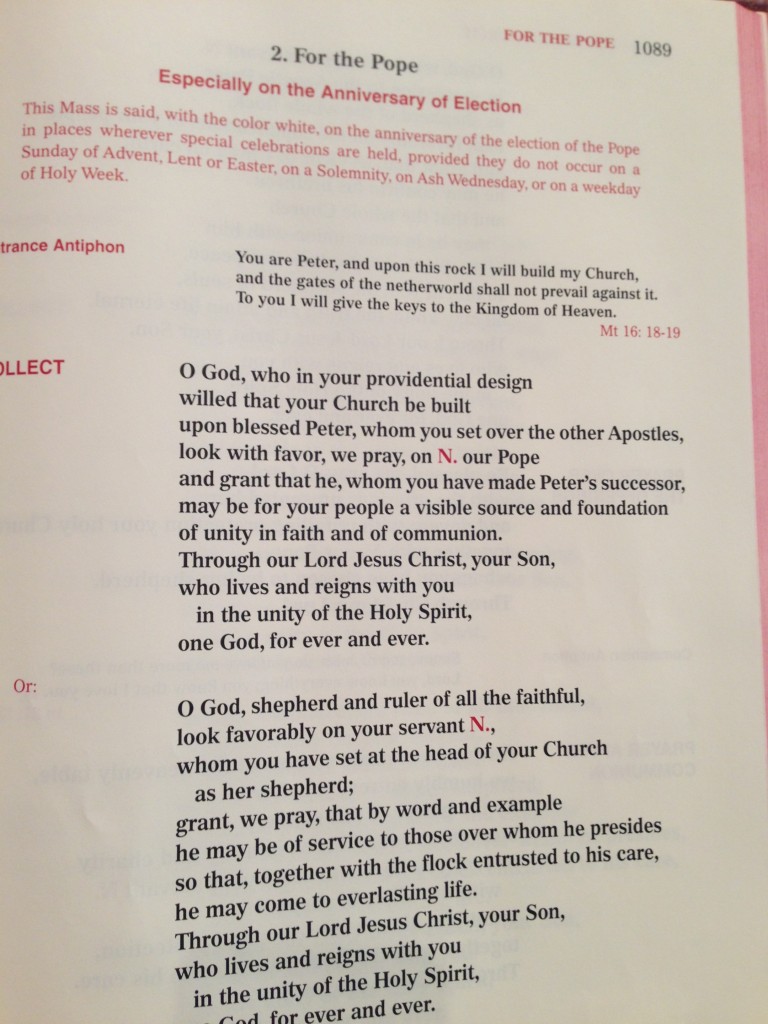 I wore Gold Vestments, my first Mass vestments, and we said the gloria in thanksgiving to God for this wondeerful Gift.  The opening prayer was so beautiful I got choked up as i said Pope Francis' name for the first time.
Just so that I wouldn't make a mistake during the Eucharistic prayer take a look at what I did :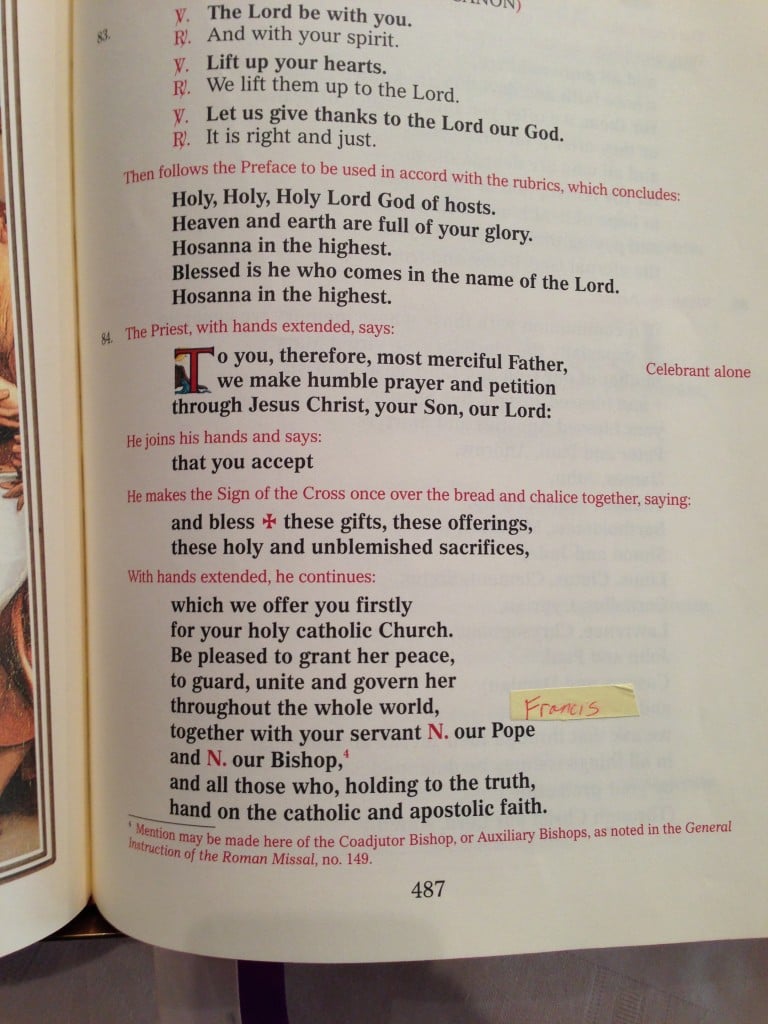 What a wonderful few days.  Just this past saturday I spoke about the Blessed Mother at the Diocesan Men's Conference. I ended that talk by said, "brothers, go to Mary."  Today our Holy Father went to the Blessed Mother under the title of Salus Populi Romani at the Basilica of St. Mary Major.  He leads us by example.  He went to Mary.  So too should we in these exciting days.  Lets go to mary and bring our Holy Father Pope Francis along with us!
After he prayer before the Icon of the Blessed Mother Pope Francis spoke to the Franciscan Confessors stationed to that Church.  On his Blog, John Thavis tells us he said "be merciful, the souls of the faithful need your mercy."  How beautiful.  Our Holy Father encourages us priest confessors to be kind, and merciful in the confessional.  I'm always telling people that I give easy penances in the confessional, that way they come back!  Rhat way we can be reminded that the Lord doesn't forgive us because of the number of prayers we say, but because we are sorry and we ask for his forgiveness.  No one should ever fear confession.  Our new Holy Father shows us that today!