53 days and counting.  I've been a priest for 53 days.  They have been some of the best days of my life. I get to wake up every morning and celebrate Holy Mass.  What could be better? What could be more moving that to stand in the person of Christ at the altar each and every day?  Priesthood is amazing!.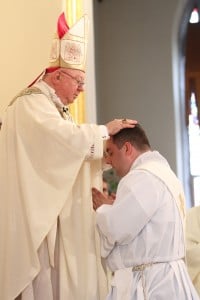 I was ordained a priest on June 9th and was assigned by Bishop Murphy to the parish of St. Kilian in Farmingdale, New York.  Each day that I have been here at the parish has been different – from quiet to non-stop!  I wouldn't have it any other way.
Pope Benedict has called us, especially us priests to engage the world differently than we have before.  Social media and the Internet have changed the way we interact with each other.  We are all called upon to engage in the new evangelization.  This new evangelization has to occur everywhere – not just in the pews of my parish church but where ever people are.  And our people are here! They're on the Internet, on Facebook, on Twitter, they're reading blogs.  So here I am too.  Here I am with this new blog – "Father, where art thou?"  This blog is a small attempt to respond to the call of the Holy Father to engage the new media that surrounds us and to reach out to the world – to call them and myself to holiness.  The idea of this blog is to follow along my journey – from seminary and into parish life.  I hope it can shed some light onto the life of the parish priest – what it's like to be in a parish, what it's like coming out of the seminary and starting out brand new!  The adjustment has been huge, but it has been so very worth it.
I've been told I have the heart of a journalist – I don't know about that, but I hope this blog is more than just news, or info.  I hope this blog becomes a place that we come to find Jesus and to become saints.  Together.
So here we go…