There's an old joke, one that originated in ancient Palestine.  Maybe you've heard it.  It goes something like this:
Three guys walk into a campsite.  A 99-year-old man is sitting in front of his tent; his 90-year-old wife is still inside.  It's a hot day.  The old man sees the three visitors and treats them like dignitaries, as if he expects something to happen.  He sets out a rather nice spread so they can refresh themselves.
Then one of the visitors says, "Tell you what.  I'm going to come back in about a year.  And your wife is going to have a baby.  A boy."
The wife, who's been eavesdropping, overhears.  At our age? she says to herself, laughing.  That's the funniest thing I've ever heard.
The punch line: a year later, after some rather hair-raising adventures, the old woman does in fact give birth to a son, and names him Laughter.
This is, of course, the story of Abraham and Sarah from Genesis 18.  I was reminded recently of its gentle humor while reading Michael Lodahl's The Story of God.  The idea of two nonagenarians giving birth to a child was as ludicrous then as it is now; in fact, the narrator seems to make a particular point of it.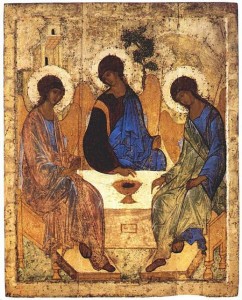 And to be fair, Sarah wasn't the only one who didn't believe.  Before the incident with the three visitors, God had already told Abraham that Sarah would become pregnant in her old age.  In response, Abraham promptly fell face down on the ground laughing (Gen 17:17).  Nevertheless, God insisted.  Sarah would give birth to a bouncing baby boy, and they were to call him Isaac, a name meaning "laughter."
For whatever reason, Abraham apparently didn't let Sarah in on the joke.  But he remembered the promise, which probably explains why he was so attentive to his mysterious visitors.
And anyway, you have to love a God who tells this ancient couple to name their boy Laughter.
Indeed, the later account of Isaac's birth (Gen 21:1-7) says nothing of the pain of childbirth.  There is only the joy of a ridiculous miracle, reinforced for the reader by the storyteller's repeated reminder: these people are having a baby, but they're really, really old!
It makes me think anew of Romans 8:18-25, a passage that has become increasingly important to me over the years.  Far too often, I've heard Romans 8:28 quoted out of context: "We know that God works all things together for good for the ones who love God, for those who are called according to his purpose" (CEB).  The verse (along with Jeremiah 29:11) is offered as personal encouragement to Christians suffering various difficulties, as if to say, "Keep the faith; everything's going to work out just fine, you'll see."  And often, of course, things do work out.
But not always.  At least, not in this lifetime.
Paul's words have been torn from their context, in which he uses the metaphor of a woman groaning in labor to speak eschatologically of the full restoration of a decaying creation.  Glory awaits.  But we groan too, awaiting our own bodily redemption.  Frankly, it's not a metaphor you're likely to hear in many evangelistic sermons.  In a self-help, quick-fix culture such as ours, who wants to hear that the Christian life is one of painful endurance?
But the older I get, the more I can identify with Paul's imagery.  We, along with all of God's burdened creation, are indeed in the delivery room straining toward our deliverance.  Paul insists that by the Holy Spirit we can await that destiny with hope and patience.
And possibly joy?
I freely admit to my curmudgeonly tendencies.  I resonate with those somber explanations of Christian joy that distinguish it from mere happiness.  The latter is too ephemeral, they say, and we suffer too much in this life.  Joy, therefore, must be a more confident and settled disposition that hopes in God's promised future.
Agreed.  As far as it goes.  But in light of the story of the birth of Isaac, I wonder.
Some explanations of joy sound a bit like The Gospel According to Eeyore: one day, everything will be better, but for now, just accept that life's a bother.  And it's true that in this life we groan, some far more than others.  The day of redemption and resurrection may seem too far in the future.
As children of Abraham by faith, however, we are drawn into his story.  And in that story, the surprising God of Laughter says in response to Sarah's stifled snickering: "Is anything too difficult for the Lord?" (Gen 18:14, CEB).
It's still a question we need to ask ourselves.  For in the company of God, any year—or indeed, any moment—is pregnant and alive with the possibility of Laughter.
Cameron Lee is Professor of Marriage and Family Studies at Fuller Theological Seminary. He is a licensed Family Wellness Trainer and a member of the National Council on Family Relations. Lee's current project is the development of the Fuller Institute for Relationship Education (FIRE), which seeks to help congregations create sustainable marriage and relationship education ministries through the low-cost training of volunteer leaders. Lee is also a teaching pastor and licensed minister in the congregation where he is a member. He teaches and preaches regularly in church settings. He is the sole or senior author of six books, including three on the lives of clergy and their families. Lee's most recent book, written with his colleague Jim Furrow, is Preparing Couples for Love and Marriage, a practical resource to help busy pastors in their ministry of premarital preparation.