Let's face it. Graduate school—even a graduate theological seminary—is to some extent a meritocracy in which people are graded according to various standards of excellence. Students in particular probably feel it most when it comes to applying for scholarships, fellowships, assistantships, internships—a whole fleet of "-ships" for which there is often stiff competition.
Don't get me wrong: I'm not about to propose any kind of radical reworking of the system. Academic excellence is a worthy goal and should be rewarded. But I do wonder to what extent the constant exposure to meritocratic environments influences how we think as Christians in other arenas.
Teachers from the high school level on up are used to getting requests for letters of recommendation from their current and former students. I get several every year. The letters are necessary because some organization is trying to make important decisions about complete strangers, and they need the opinion of people who are (supposedly) qualified to make a judgment.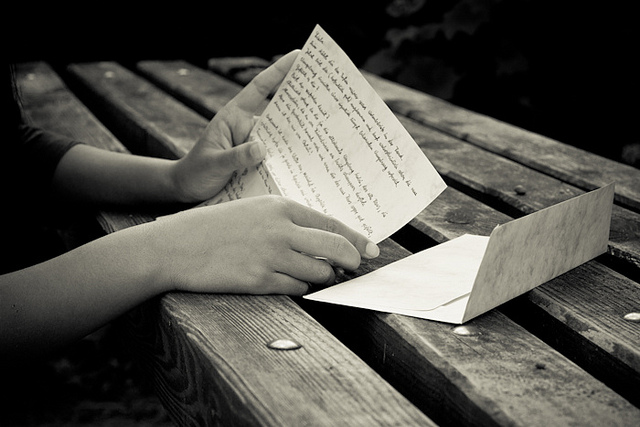 The problem of needing letters of reference must have been even more acute in the ancient world, in the years BGE (Before the Google Era). Such letters were a common and necessary feature of business transactions. The apostle Paul himself used them, as when he instructed the Corinthians to select a delegation to bring an offering to Jerusalem, bearing a letter that would commend the visitors to their hosts (1 Cor 16:3).
But this could be a two-edged sword. If the presence of letters helped to establish trust, what would the absence of letters say? It seems that some silver-tongued teachers had arrived in Corinth bearing impressive references, making some of the Corinthians (the ones who were probably skeptical about Paul in the first place) wonder why Paul didn't have similar credentials. His response is to try to correct their culturally-skewed understanding of what it means to be an apostle in the first place.
But along the way, he makes an interesting move, turning their doubts upside down and probably catching them by surprise:
You are our letter, written on our hearts, known and read by everyone. You show that you are Christ's letter, delivered by us. You weren't written with ink but with the Spirit of the living God. You weren't written on tablets of stone but on tablets of human hearts. (2 Cor 3:2-3, CEB)
I don't need a letter, Paul seems to say, because you are my letter, right out there for everyone to read.
Today, when you apply for a job, you pack your résumé with the most impressive achievements and provide only the best letters of reference. On that basis, one is tempted to wonder, Really, Paul? The Corinthians are your letter? Don't you remember all the problems they've had? Don't you remember how they treated you the last time you were there?
And if that weren't enough, Paul goes further: the Corinthians, with all their questionable beliefs and behaviors, are a letter from Christ. It is, of course, just a metaphor—but it's a stunning one.
Paul's words are noteworthy for three reasons. First, Paul says that the Corinthians are written on his heart. This is a deeply affectionate thing to say to a congregation that has given him so much grief. But it can be like that in a troubled pastorate: these are the people he has shepherded, and he loves them despite their flaws.
Second, they are Christ's letter, not because they behave with perfect amiability or righteousness, but because the Spirit of the living God is clearly working in and amongst them. Yes, they have skewed notions of spirituality, but that doesn't mean that their gifts aren't real. Yes, they have been rebellious, but they have also repented.
And third, Paul's language suggests that he sees all of this as evidence that God has made good on the promise given through the prophet Ezekiel:
I will give you a new heart and put a new spirit in you. I will remove your stony heart from your body and replace it with a living one, and I will give you my spirit so that you may walk according to my regulations and carefully observe my case laws. (Ezek 36:26-27, CEB)
From Paul's perspective, the church in Corinth is living evidence of God's new covenant with his people: not one of an externally imposed law, but of the gift of life in the Spirit. And this is despite their divisiveness, immoral behavior, and self-serving theology. This church is Paul's letter of reference, the best-foot-forward introduction to his work as an apostle. They are even Christ's letter, for all the world to read.
From a meritocratic point of view, it doesn't make a whole lot of sense.
But from the vantage point of God's inexplicable grace and the abiding presence of the Holy Spirit? That's another story.
---
Cameron Lee is Professor of Marriage and Family Studies at Fuller Theological Seminary. He is a licensed Family Wellness Trainer and a member of the National Council on Family Relations. Lee is also a teaching pastor and licensed minister in the congregation where he is a member.
Follow Fuller Seminary on Twitter at @fullerseminary.
---