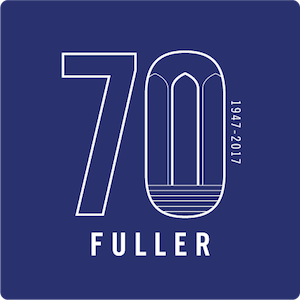 This year Fuller commemorates its 70th anniversary: not only celebrating seven decades of innovative leadership in theological education, but looking to a future of equipping men and women in new ways for a vastly changing global landscape. Founded by Charles E. Fuller in 1947 to train leaders who are intellectually sound and culturally attuned as well as solidly evangelical, Fuller is retooling to extend that founding vision more broadly than ever.
In an era of declining demand for seminary education, a shrinking Western church, and deep cultural changes, Fuller is expanding the types and modalities of formation it offers as well as the audiences it serves. The Fall 2017 quarter saw record enrollment for online students and a growth of over 500 new students across all degrees. Fuller experienced a tremendous growth in inquiries from prospective students in all three schools, led by a 14% increase in applications for our Master of Arts in Theology degree, 32% increase in applications for our Doctor of Missiology degree, and a 58% increase in applications for our Doctor of Psychology degree, while being more selective in acceptances.
"This is a time to frame and shape again Fuller's mission in the world," says President Mark Labberton. "We are entering a season burgeoning with possibility, and are positioning Fuller from a classic seminary to being a multi-resource to Christ's church and the world at large. We hold the same founding mission, the same commitment to formation, the same DNA from our founding—and the same commitment to courageous and creative leadership that leans into the issues of our culture and global needs going forward. And we are persistent in trusting God to show us great and mighty things for another 70 years."
"Higher education is going through a period of massive disruption," says Fuller Senior Advisor Bill Clark, "and Fuller is realigning itself for an agile response to offer resources for a changing world."
The response Fuller has captured through its launch of FULLER studio in April 2016 demonstrates the significant need and desire for deeply informed spiritual resources. Fuller's reach has grown exponentially to 196 countries, with more than 500,000 unique visits to its website annually generating nearly 30,000 new relationships.
Fuller's vision of forming global leaders is driven by the question, Will there be a church in the 21st century that matters? In order to answer "yes" to this question, Fuller is transforming the seminary experience—not only training leaders in traditional ways for traditional ministry settings, but also forming leaders who will contribute to the flourishing of the church as they serve in any profession and in any setting. This means offering the seminary's educational resources in creative new modalities and platforms, serving individuals, groups, and churches right where they are with the kinds of support and formation they need. From virtual reality chapel services, to FULLER studio's extensive digital media offerings, to embedded education through tailored online academic programs, Fuller is continuing its legacy of innovative leadership in theological education.
One important component of this transformation is an enriched, expanded development of the embedded education opportunities that have always been integral to Fuller's ethos. With the church now growing and thriving in the Global South and other areas around the world, online growth has hit a historic mark at Fuller. The seminary's programs have been fine-tuned technologically and formationally to allow students to make genuine, personal connections with their professors and fellow students. Faculty are truly instructors and interactive guides, not facilitators. Fuller's online teaching is learner-centered, with an emphasis on both theological and spiritual formation.
Another significant way Fuller is expanding the seminary experience is through a new digital learning platform that will offer the excellence of the seminary's scholarship and resources to a much broader audience. The Fuller Leadership Platform, to be launched in early 2018, will be an online community offering content, research, resources, and relationships from our centers, faculty, and partners to all who can use them, not just for traditional degree-seeking students. These offerings will be available to any leader, organization, church, or marketplace individual across the world—to anyone who seeks continued education for growth and enrichment, with options to earn professional certificates. This education platform, accessible through any computer or mobile device, will provide the very best of Fuller's resources for learners and leaders preparing to serve God's kingdom.
Fuller's history and identity among institutions of theological education clearly reflects this commitment to agility and innovation. In the 1940s Charles Fuller, a gifted evangelist, was reaching thousands through his popular radio broadcast, The Old Fashioned Revival Hour. But he dreamed of a way to spread the gospel even further: through a new school on the West Coast to train young evangelists and missionaries who would be deeply committed to both biblical and scholastic truth. This dream came to life in 1947, when he founded Fuller Seminary as a force for the renewal and broadening of evangelicalism. In the same way that Charles Fuller employed the technological advances of his day to proclaim the gospel message across radio airwaves, Fuller is utilizing the most innovative digital media platforms and learning modalities in the modern era to increase its reach and influence.
In the 70 years since its founding, Fuller has become and will continue to be a place of rich diversity and theological leadership beyond what its founders could have imagined. Now the largest multidenominational seminary in the world, Fuller's nearly 4,000 students come from 80 countries and more than 100 denominations, and its 43,000 alumni serve in a vast array of churches, workplaces, and communities across the world.