I don't make New Year's resoultions. It always ends with me feeling disappointed in mid-February when I don't stick to it and diving headfirst into a trough glass of pinot. No resolutions. Not for me.
I've made a few goals, mostly related to prayer and living my vocation more fully.
But one thing, there's one thing I am sure of for 2013, and the wisdom came from the blog of a dear friend.
More reading; less social media.
Dear Facebook,
I'm setting a timer. 15 minutes in the morning. 15 in the evening. Done.
As for the reading?
You know I made a list.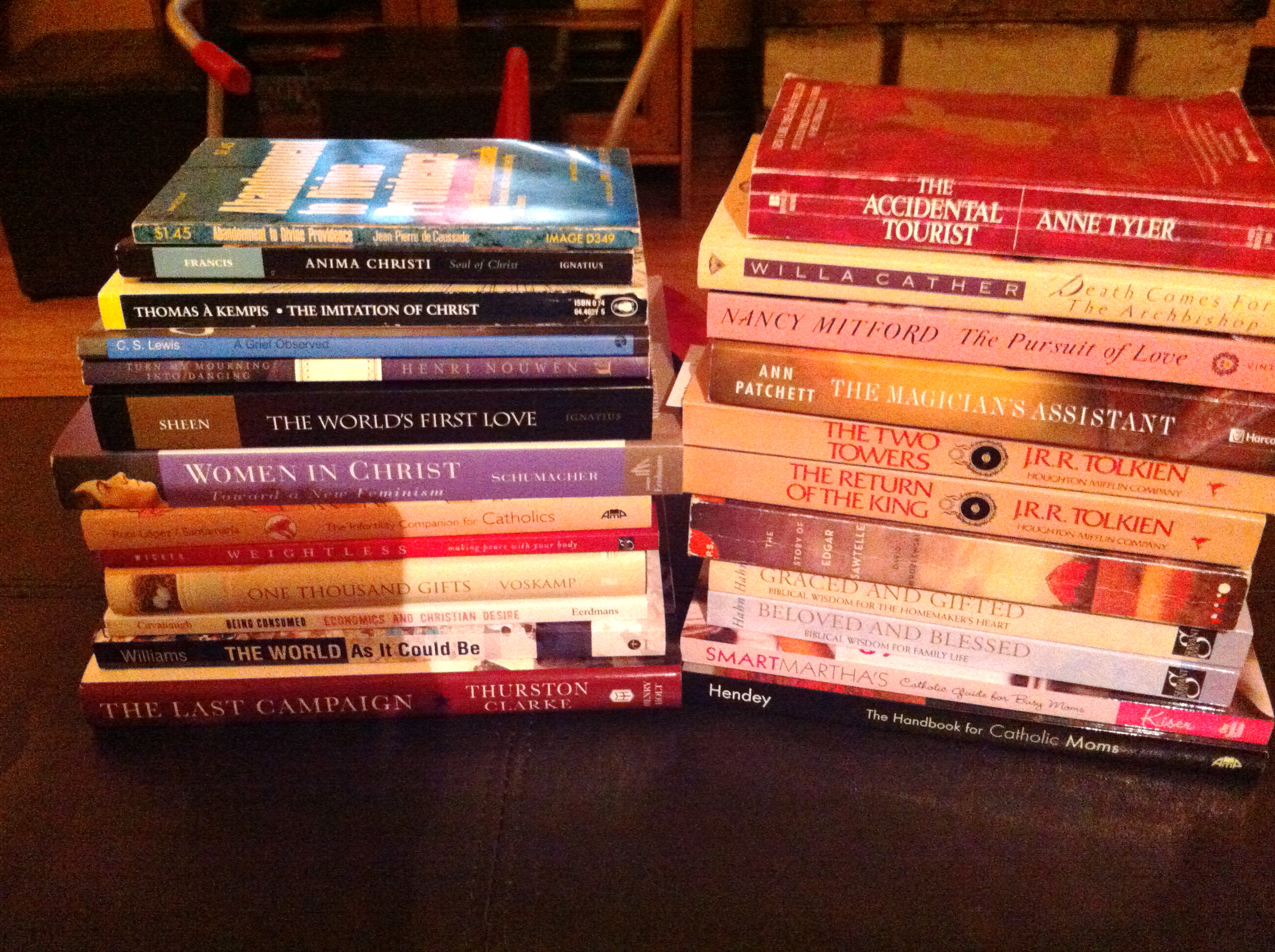 So what's on my list, you ask?
Let's start with the two I am reading right now:
The Two Towers by J.R.R. Tolkien
Graced and Gifted by Kimberly Hahn
and then throw in the ones I started and haven't yet finished:
The World's First Love: Mary, the Mother of God by Fulton Sheen
The Infertility Companion for Catholics by Ruhi-Lopez and Santamaria
One Thousand Gifts by Ann Voskamp
Being Consumed: Economics and Christian Desire by William Cavannaugh
The World As It Could Be: Catholic Social Thought for a New Generation by Fr. Thomas Williams
My Life with the Saints by Fr. James Martin
Now for good measure, some I haven't yet begun but own:
Abandonment to Divine Provedence by Jean-Pierre deCaussade
Anima Christi by Mother Mary Francis
The Imitation of Christ by Thomas A'Kempis
A Grief Observed by CS Lewis
Turn My Mourning Into Dancing by Henri Nouwen
Women in Christ: Towards a New Feminism edited by Michele Shumacher
Weightless by Kate Wicker
The Last Campaign by Thurston Clarke
Now some fiction to round it all out:
The Accidental Tourist by Anne Tyler
Death Comes for the Archbishop by Willa Cather
The Pursuit of Love by Nancy Mitford
The Magician's Assistant by Ann Patchett
The Return of the King by J.R.R. Tolkien
The Story of Edgar Sawtelle by David Wrobleski
And last, but not least, what I call "vocational" books:
Beloved and Blessed: Biblical Wisdom for Family Life by Kimberly Hahn
Smart Martha's Catholic Guide for Busy Moms by Tami Kizer
The Handbook for Catholic Moms by Lisa Hendey
What books are you hoping to read in 2013?  Do you make resolutions? What are yours?