7. Did you hear?
This very night, on the Disney Channel, Girl Meets World is premiering!
Corey and Topanga, and all grown up and married. The girl in question? Their daughter.
I know, right?
Who else is going to watch this and desperately hope for at least one Feeney appearance?
6. Usborne Books
Back in March, I hosted an online book party for Molly's Usborne business. I was happy to do so, since it is my dearest ambition in life to cram every open space in our home full of wonderful, delicious books.
I ordered a truly tall stack of books, most of which are on hold for Christmas and birthdays. Of all the books, Maggie got three right away. The ones I let her choose from the website: Snakes, Under the Sea, and A Look Inside Your Body (Am I the only one who sees a future in STEM for this girl?)
Snakes still makes me cringe because of my horrible fear of snakes, but Under the Sea and Look Inside Your Body have quickly become two of my favorite books to read with Maggie.
I just wanted to give a big shout-out to Usborne and Molly. I'm not getting anything for this. I just really love the books I ordered. Especially the Body book. The details are wonderful, there are tons of lift the flaps, which 3 year olds love, and beautiful illustrations.
5. Edel Update
One month until Edel!
I'm stockpiling dresses and makeup samples. Don't even worry about it, my suitcase will make the 50 pound limit. I think.
And after getting to meet the wonderful Bonnie on Wednesday night, and have breakfast with her on Thursday, I'm getting even more excited to hang out with friends (both new and pre-blogging).
So there's a kareoke portion of the evening. Naturally I have been thinking about what I'll sing and the ratio of alcohol needed vs. absurdity of song choice. Don't Stop Believing is my number one all time pick for singing in public. Hell, I don't even need to be buzzed to sing it. However, the dark horse is … Jump Around by House of Pain. Yeah, I know all the words. But I'm pretty sure I'll need my own bottles of whiskey before I'll sing it in front of anyone. We'll see.
4. Half-Birthday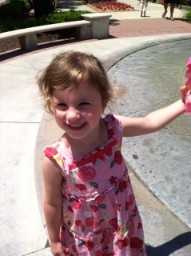 Maggie's half-birthday is tomorrow. Since her actual birthday (her whole birthday as she calls it) is 3 days after Christmas, we decided when she was baby that we'd have her party on her half-birthday. You know, so someone beside us would come to it.
Her party is a Sofia and Frozen mash-up, as per her request. We're having it at a beautiful city park that has three playgrounds, because…I have twin infants. I do not have the time, energy or inclination to clean my house so 30 people can descend upon it and make it dirty again. So, prayers for no rain please!
3. Saint Affairs
Erica at the very thoughtful Saint Affairs wrote a post about teaching our Catholic children about sexuality and their bodies. It was such a good, very hopeful post. Go check it out!
2. Well Read Mom
I'm putting together a Well-Read Mom group for this year (the year starts in August). This year is
The Year of the Spouse
and the lineup of books is super interesting (and includes Pride and Prejudice). Traditionally, the WRM program is a meet in person type of thing. However, I'm considering doing an online option, where if someone who doesn't live in Indy would want to be part of the group, we could do a Google hangout to discuss the books. What do you think?
If you'd be interested in a Well-Read Mom video chat book group, please let me know so I can decide if there's enough interest to make it happen.
1. Prayer Request
Friends, I need to ask for prayers for a special intention. It has nothing to do with my fertility, I promise. 😉
Just something big is in the works and I don't want to announce it just yet, but I need prayers to continue discerning if it is God's will at this time.
Thank you ever so much!  Go see Jen for more Quick Takes.