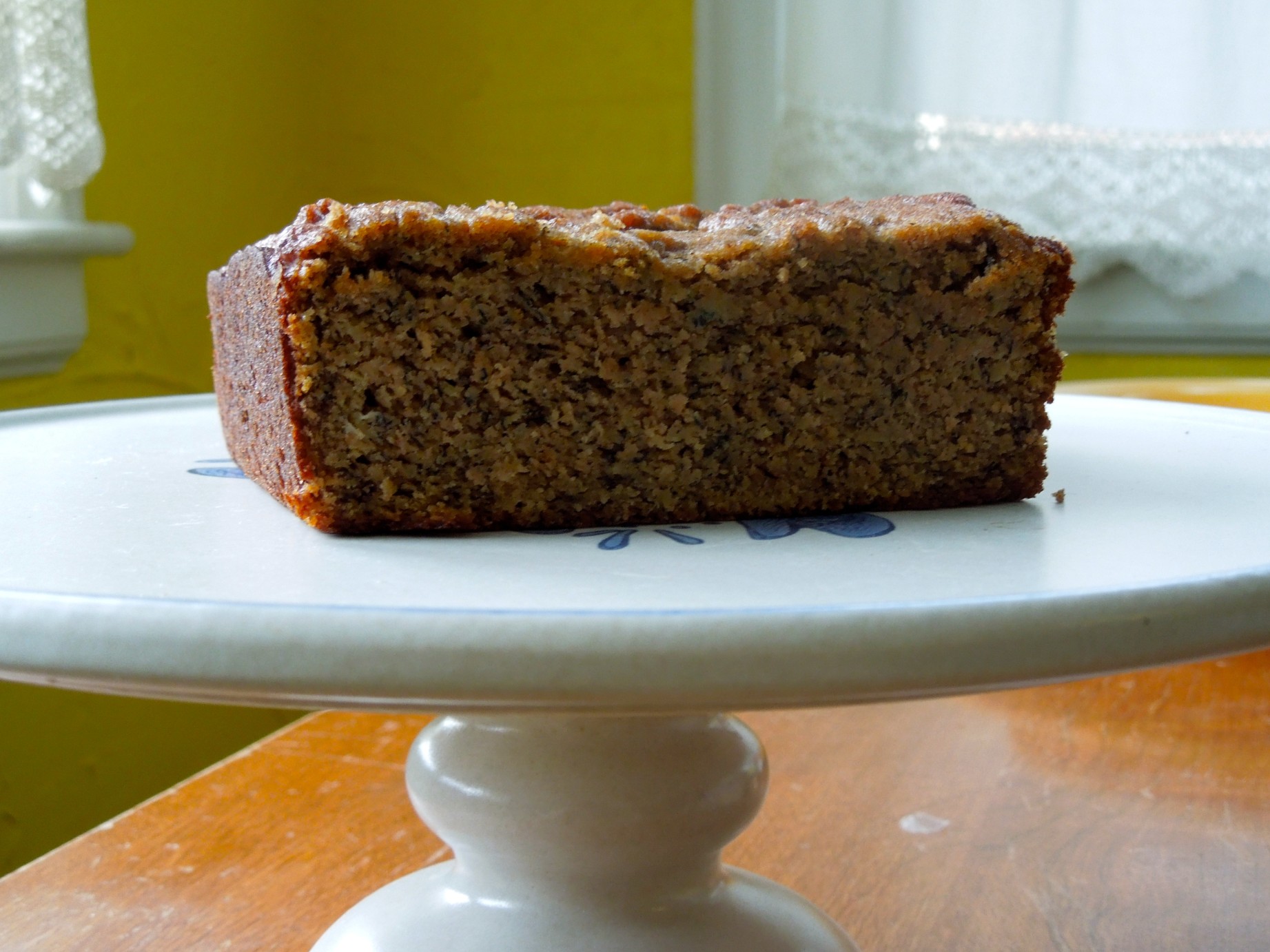 As I promised earlier this week, here is the banana bread recipe that's taken our household by storm. We are averaging about one loaf per week. And by we, I mostly mean Atticus and I because Maggie doesn't eat a ton of it, though she does like it. Now, this is *not* one of those blogs where I have a million pictures of me making the recipe, because really, if you need a picture of someone dumping stuff into a food processor and pushing "pulse", then I don't even know if you can handle this. I also apologize in advance for not having any artsy-fartsy pictures of ripe bananas or of my empty loaf pan (though it is a very pretty Williams Sonoma one that Atticus gave me for Christmas a few years ago).
The recipe is my version of a Paleo banana bread made by Civilized Caveman Cooking. My bread is not actually paleo (I use peanut butter), though it is grain and refined sugar free.
Here's what you'll need:
Food Processor or good mixer
9×5 glass or metal loaf pan
4 bananas (the riper, the better), mashed
4 eggs
1/2 cup natural peanut butter (you can use almond butter too)
4 tbsp butter, melted (we use Kerrygold grass fed, you can also use coconut oil)
1/2 cup coconut flour (I use Bob's RedMill)
1 Tbsp cinnamon
1 tsp baking soda
1 tsp baking powder
1 tsp vanilla
1/4 tsp sea salt
1/2 cup chopped walnuts (or whatever nut you like – optional)
Here's what you do:
Preheat oven to 350. Grease loaf pan with desired fat (I use butter).
Combine mashed bananas, eggs, PB, and melted butter in a food processor or mixer. Mix well.
Add in the dry ingredients (except walnuts) and mix well. Fold in nuts. Pour batter into greased loaf pan.
Place in oven and bake 55-60 minutes (f0r glass pan), 40 minutes for metal. (I start checking around 35 minutes to make sure it doesn't dry out.)
Remove and cool on wire rack.
It doesn't have any sugar added, but if you use ripe enough bananas, it doesn't need any. I slather it with grass-fed butter and devour. It is also tasty with butter and a drizzle of honey, if you're into that sort of thing.
If you decide to try it, let me know what you think!