I had so much fun doing the poem challenge in October. I only wish I'd actually been able to post a poem a day. Ah well, perhaps in a season of life when I don't have two infants underfoot and a house that needs ready-ing. Ready for what, you ask?
I thought you'd never ask! Why, we are getting our lovely 78 year old Tudor style home ready to sadly, put it on the market. We've outgrown our little home and are moving out of the city and into the….dare I say it….suburbs. I know, I know. I swing like a pendulum on PED's back and forth about this.
It'll be amazing. I love the Monon Trail.
I'm a terrible sell out. I better burn my 317 t-shirt and give away my TOMS.
But free Catholic school and an amazing, amazing parish.
But living with rich people, who I hope will not be too terribly obnoxious.
And all those roundabouts.
Back and forth it goes.
In the end, it's the best choice for our family, and I know we will love it. But I'm still left feeling sort of guilty about leaving a neighborhood with true socio-economic diversity to live in a town where the median household income is about 100k a year. Whew. There, I said it. I know that in some ways it'll be easier to get involved in working with the poor and getting to know them, since our parish runs the largest food pantry in the county as well as a free medical clinic for the uninsured. I know myself and I know that as soon as the boxes are unpacked and Maggie is back in school, I'll be finding time and ways to get involved. But still, when I was a starry-eyed dreamer living in Chicago, I never thought I'd be a suburban Indiana housewife. Let me tell you that.
I digress.
So we are prepping our home for the market. Which involves lots of painting. Lots and lots of painting.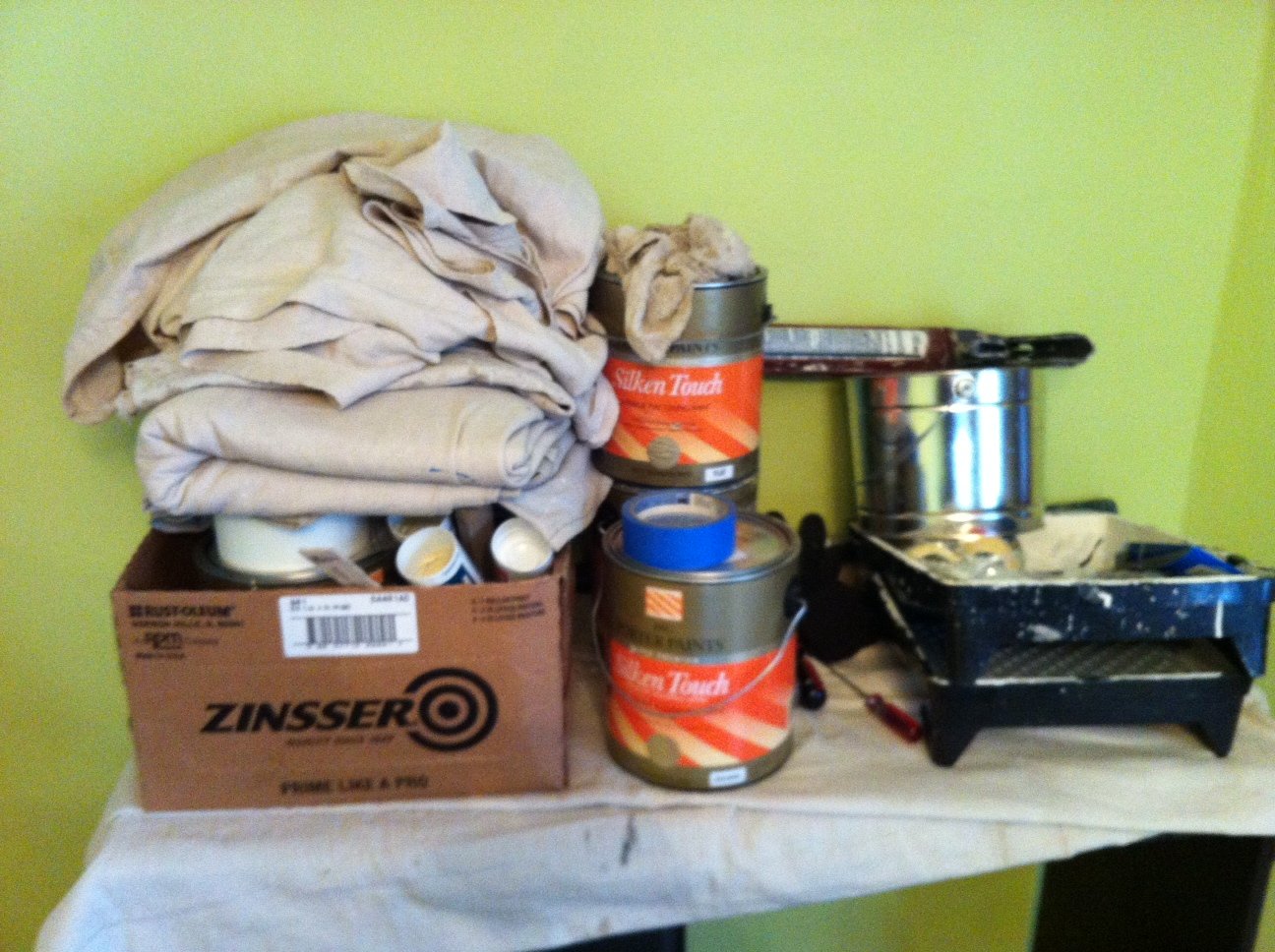 The first wave of supplies.
The thing with 78 year old houses is, they are mostly made with plaster for the walls and plaster is very heavy and cracks. So many cracks. The good news is, after its done, it will look so nice. We're painting the living room (including domed ceiling like a hobbit house) a color called Sand Dollar. I love it.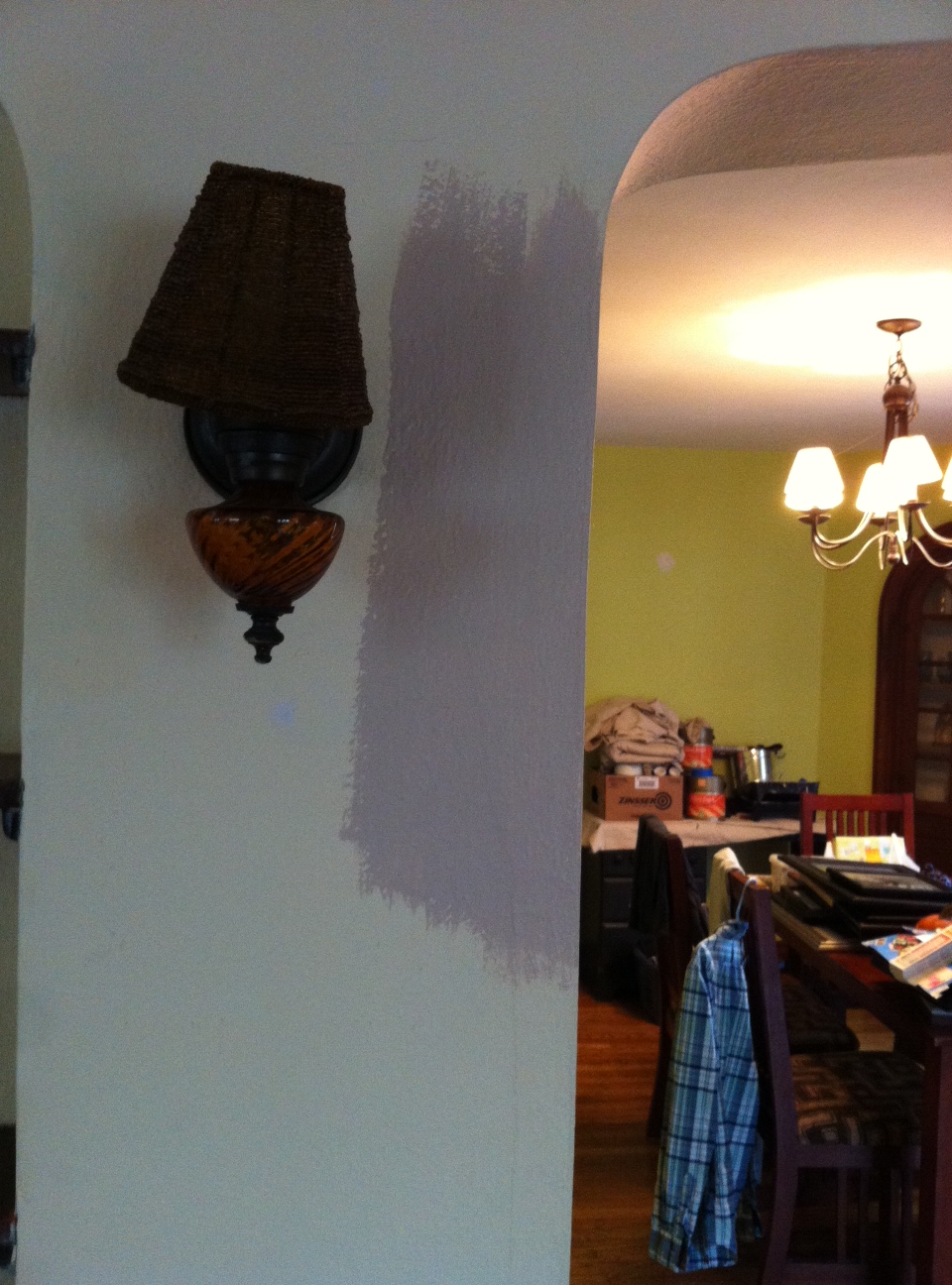 Upgrade from the off-white on the walls for the last 5 years. And yes, that is a 78 year old light fixture with a crooked lampshade.
The worst part was taking all of my many and varied framed photos and artwork from the walls. I just adore my objets d'art. And by that I mean my million and a half artsy fartsy family pictures and some random artwork I've acquired over the years like a crazy cat lady on adoption day at Petsmart.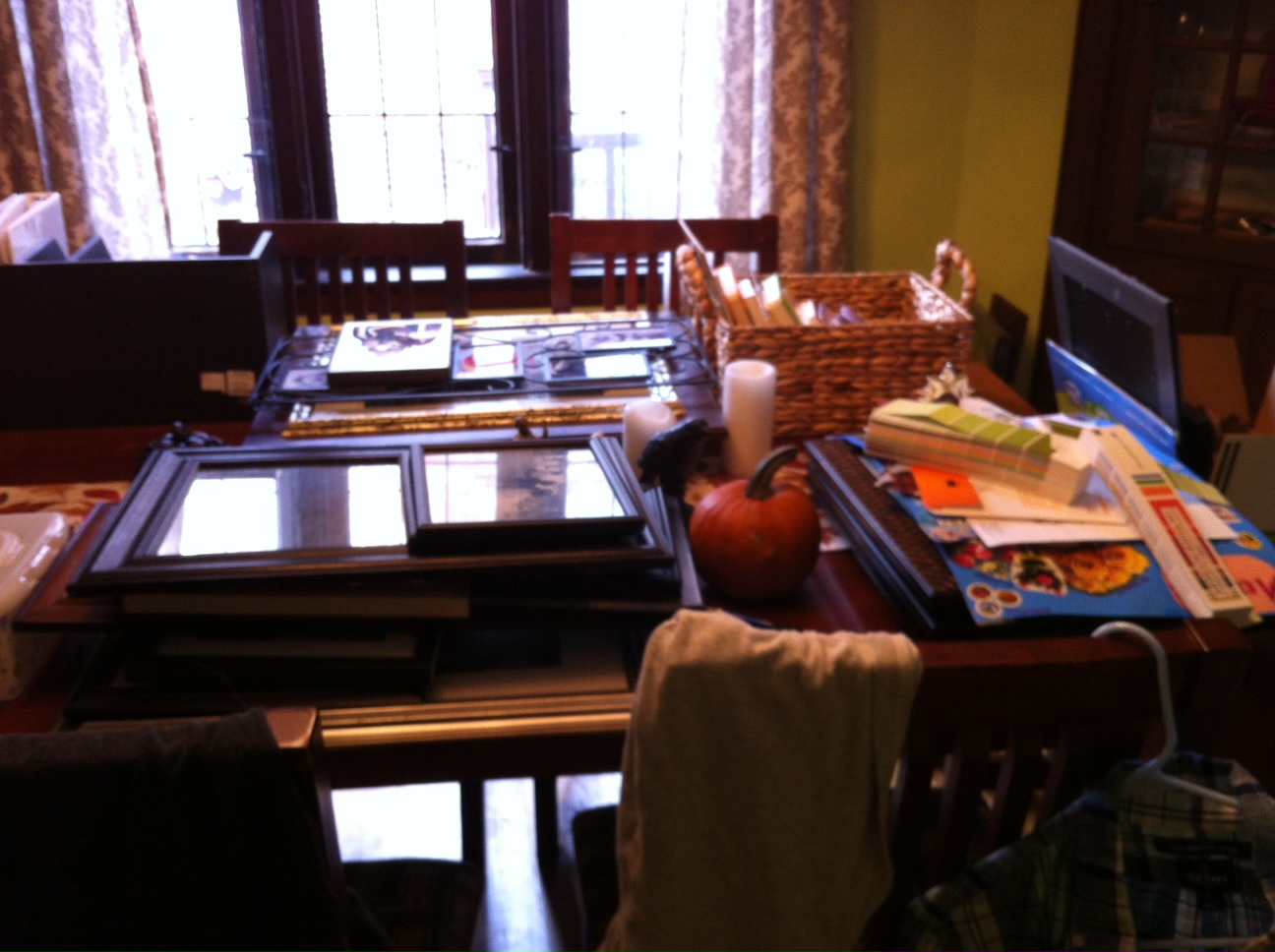 Piles of frames. It's so sad. This is also sometimes our dining room table.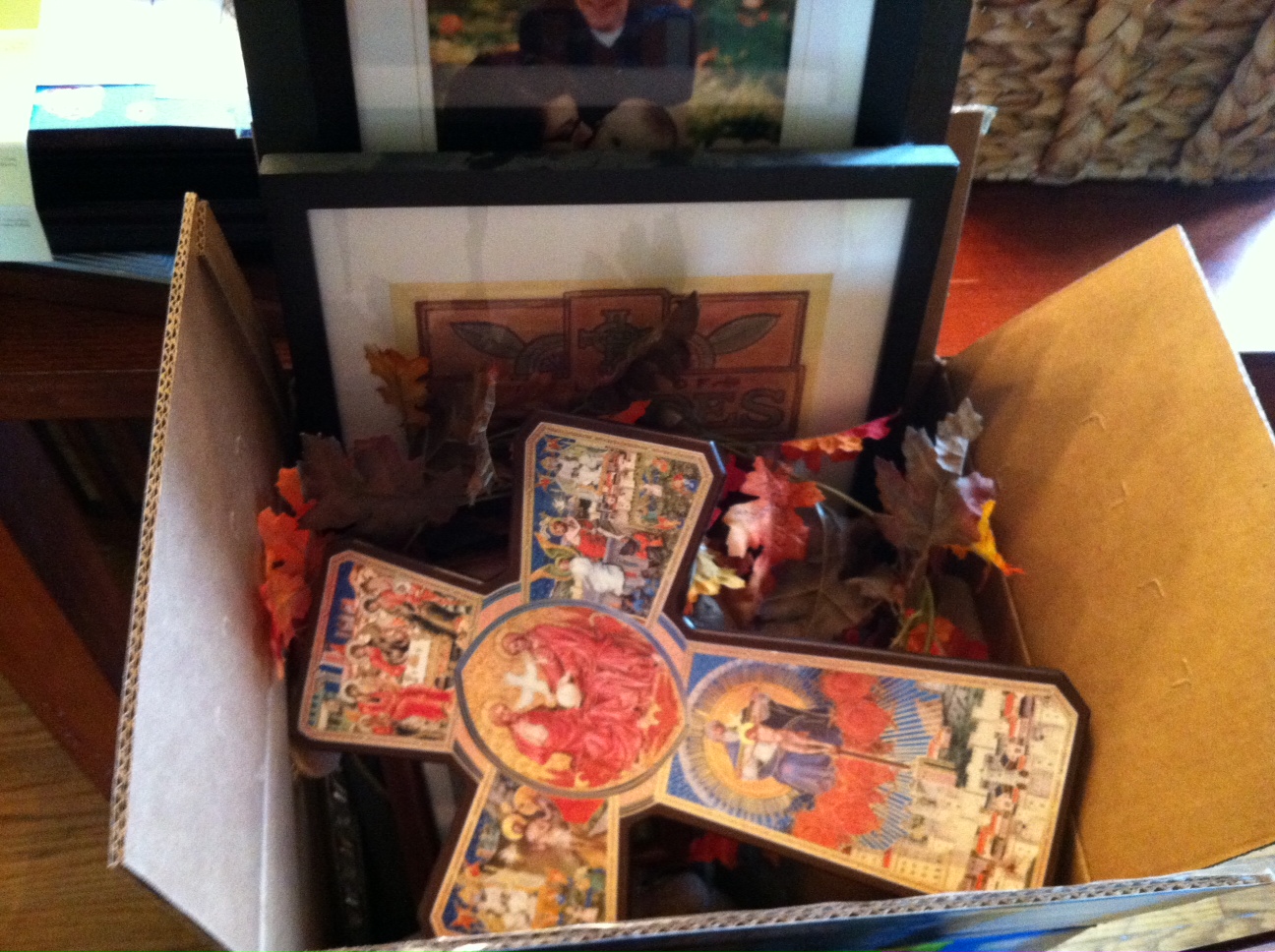 Worst of all, our gorgeous crucifix from Rome.
Thus things have been quiet over here and I did not get as many poems posted as I hoped to. Womp womp.
Our goal is to have everything done that needs done by mid-January so we can list the house then if we feel like it (ie. if there homes on the market where we're moving that we like bunches). In January, the real fun begins! Figuring out what to do with a 4 year old, two 14 month olds, and a dog during the middle of winter when we have showings. Laugh a minute over here.
Why yes, I am a crazy person. How did you guess?
Since I'm crazy, I'm going to include one of my favorite crazy poems, from one of my favorite writers, Wendell Berry. He's a lunatic farmer in case you haven't heard my proclamations of love for him before. This poem makes me laugh and makes me think. A perfect combination.
Manifesto: The Mad Farmer Liberation Front
Love the quick profit, the annual raise,

vacation with pay. Want more

of everything ready-made. Be afraid

to know your neighbors and to die.

And you will have a window in your head.

Not even your future will be a mystery

any more. Your mind will be punched in a card

and shut away in a little drawer.

When they want you to buy something

they will call you. When they want you

to die for profit they will let you know.

So, friends, every day do something

that won't compute. Love the Lord.

Love the world. Work for nothing.

Take all that you have and be poor.

Love someone who does not deserve it.

Denounce the government and embrace

the flag. Hope to live in that free

republic for which it stands.

Give your approval to all you cannot

understand. Praise ignorance, for what man

has not encountered he has not destroyed.

Ask the questions that have no answers.

Invest in the millennium. Plant sequoias.

Say that your main crop is the forest

that you did not plant,

that you will not live to harvest.

Say that the leaves are harvested

when they have rotted into the mold.

Call that profit. Prophesy such returns.

Put your faith in the two inches of humus

that will build under the trees

every thousand years.

Listen to carrion – put your ear

close, and hear the faint chattering

of the songs that are to come.

Expect the end of the world. Laugh.

Laughter is immeasurable. Be joyful

though you have considered all the facts.

So long as women do not go cheap

for power, please women more than men.

Ask yourself: Will this satisfy

a woman satisfied to bear a child?

Will this disturb the sleep

of a woman near to giving birth?

Go with your love to the fields.

Lie down in the shade. Rest your head

in her lap. Swear allegiance

to what is nighest your thoughts.

As soon as the generals and the politicos

can predict the motions of your mind,

lose it. Leave it as a sign

to mark the false trail, the way

you didn't go. Be like the fox

who makes more tracks than necessary,

some in the wrong direction.

Practice resurrection.

Manifesto: The Mad Farmer Liberation Front" from The Country of Marriage, copyright © 1973 by Wendell Berry