Well, oops.
Life is crazy. But here I am, with more poems to share. Since I missed a few days, today, a few poems.
Atticus and I have this crazy dream to have a lake house someday. We both just love a lake. We fell in love walking around lakes at Notre Dame, and that big lake in Chicago. We are water people, and this poem shares our dream.
The Lake Isle of Innisfree
W.B. Yeats
I will arise and go now, and go to Innisfree,
And a small cabin build there, of clay and wattles made;
Nine bean-rows will I have there, a hive for the honey-bee,
And live alone in the bee-loud glade.
And I shall have some peace there, for peace comes dropping slow,
Dropping from the veils of the morning to where the cricket sings;
There midnight's all a glimmer, and noon a purple glow,
And evening full of the linnet's wings.
I will arise and go now, for always night and day
I hear lake water lapping with low sounds by the shore;
While I stand on the roadway, or on the pavements grey,
I hear it in the deep heart's core.
Source: The Collected Poems of W. B. Yeats (1989)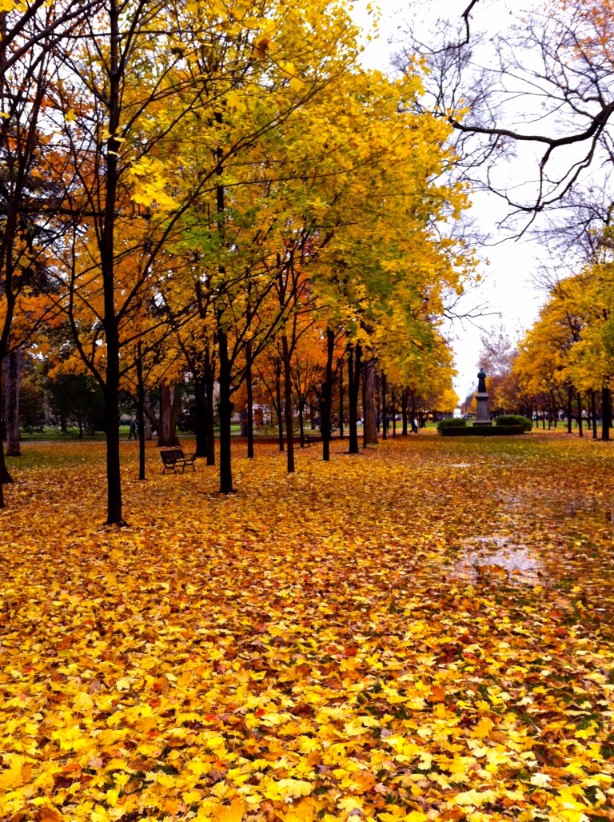 And while we are talking about nature, I'd be remiss to not include one of my favorite fall poems by Mr. Robert Frost.
October
Robert Frost
O hushed October morning mild,
Thy leaves have ripened to the fall;
Tomorrow's wind, if it be wild,
Should waste them all.
The crows above the forest call;
Tomorrow they may form and go.
O hushed October morning mild,
Begin the hours of this day slow.
Make the day seem to us less brief.
Hearts not averse to being beguiled,
Beguile us in the way you know.
Release one leaf at break of day;
At noon release another leaf;
One from our trees, one far away.
Retard the sun with gentle mist;
Enchant the land with amethyst.
Slow, slow!
For the grapes' sake, if they were all,
Whose leaves already are burnt with frost,
Whose clustered fruit must else be lost—
For the grapes' sake along the wall.
Sigh. Doesn't it make you want to talk a nice long walk in the woods? Me too.