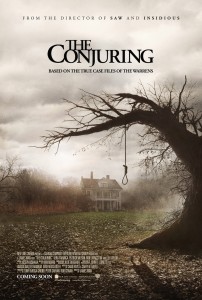 A few days ago, one of the publicists I work with in Hollywood called me. She asked if I wanted an interview with the Hayes brothers who wrote the screenplay for The Conjuring. Without hesitation, I said, "Uh yeah, who do I have to kill?" Thankfully, she said homicide wouldn't be necessary, and she would be more than happy to set up an interview.
I love talking to fellow writers. I like hearing how their brain ticks and what motivates them to make certain storyline choices. After seeing The Conjuring, I knew that my interviews with the cast, as well as Lorraine Warren and James Wan, wouldn't be complete until I talked to Chad and Carey Hayes, the screenwriters.
After I screened The Conjuring a few weeks ago, I couldn't get over the horror/faith storylines throughout the film. As a soon to be published horror novelist myself, and a Christian, I've given a lot of thought to how to tell a good, terrifying and traditional horror story. I couldn't help but wonder about the Hayes' brothers and their possible faith.
I ran over my list of generic questions about faith, the Warrens, etc., as I prepared myself for the interview. Dialing into the conference call number supplied, I was connected with the Hayes brothers right away. After the typical press/talent greetings, I started with the question, "What drew you to tell this story about the Warrens and demonic possession?"
They both answered with, "Our Christian faith, without a doubt."
Imagine that, Christians drawn to tell a horror story because of their faith.
That isn't as unusual as it sounds. While getting the word out about my forthcoming book, I've made a lot of contacts with Christians who write horror. Still, I've been hard pressed to find writers of faith who would put it the same way as the Hayes brothers did.
The discussion even got better as they relayed to me stories of advanced screenings to faith groups; especially to a group of priests. The Hayes told me that priest after priest came up to them, shook their hands and said, "You got it right. Thank you for taking it so seriously."
Even more interesting, Chad and Carey told me how they established deep connections with Lorraine over their mutual faith. Their hope is that, "We're going to be able to tell more of the Warren's cases to the world," if The Conjuring does well at the box office.
Finally, when they found out about my book, we started to talk about the challenges of being a Christian and artist. We all agreed it was important for us to "tell the truth" but not use stories as an evangelistic tool or pulpit. Chad and Carey said, "We wanted to discuss God, faith and the challenge to someone's non-belief in a time of crisis. That is the story that appealed to us as writers and Christians. That is what made it all interesting to us."
Plus, they both admitted, "We just like a good scare like everyone else, so we really did want the film to be scary."
Indeed, there is no doubt in the Hayes brother's work, "Scary, telling the truth and showing the supernatural world," work together quite well.