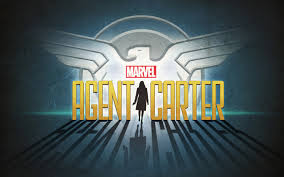 (Jonathan Ryan posting for Rogue writer, Jen Schlameuss-Perry.)
The first season of Marvel's Agent Carter came to a close last night. I sincerely hope they make a second season—they certainly left the door open to it. Since the first episode aired, I eagerly awaited each new one. I loved the setting (post-WWII), the costumes, the storyline and the cars…so many pretty cars… And I also loved the themes they dealt with; reconciliation, knowing your worth, seeing the worth of others, ambition, honor, camaraderie, trust and putting yourself on the line for the truth. It was inspiring to see, in particular, the way that Peggy dealt with the nonsense in having to establish street-cred with the other agents in the SSR. She had already more than earned her stripes in her service during the War and in dealing with the whole Captain America scene—and the guys who fought along-side of her in the War knew that. But, now, back in the day-to-day life of post-war crime-fighting, she finds herself (like so many of our military upon their return from extraordinary circumstances) struggling to find her niche in her new situation.
We all know that Peggy is a bad-ass. She can take any one of the guys she's working alongside of. At her level of expertise, she should outrank and already does outmatch all of them.  Peggy handles the "boys club" mentality with such grace, tact and almost detachment; not relying on the approval of others for her own self-worth. She is free to work to her potential because she's not bogged down by caring what her superiors and co-workers think of her–she's on a mission to find truth–and that can't be found in the prejudice and blindness of the people around her. I love that the writers made her nemesis a woman, too. When it comes to strategy and fighting skills, the only one who gives her any real trouble is that crazy Russian lady with the alias, Dottie Underwood.
Being overlooked works out very well for Peggy, initially. She is able to covertly conduct her own investigation into the innocence of Howard Stark and the nefarious undertakings of Leviathan. She is very effective in it because nobody notices her…except for the guy who likes her—Daniel Sousa. But, he might not have noticed anything special about her comings and goings if he hadn't first been attracted to her.
The appeal for the show, for me, is not all feminism and woman-power (but that doesn't hurt). I loved the gadgets (was that a mithril vest that Peggy offered Howard? I know it wasn't, but it totally looked like it!) and spy stuff and relationships and slowly emerging outgrowths of the SSR and Leviathan (backstory). And the cars—I loved the cars. It was a fun series to watch—a nice diversion after a double shift at work. I would love to see how it plays out and whether Peggy ever dates Sousa. I think she should. He's a cutie, he clearly has a profound respect for her and he does what he thinks is right even if it's painful to him; so he's a catch.  And who doesn't love a little romance?
Jen Schlameuss-Perry is a massive fan of sci-fi, cartoons and superheroes and loves to write about them in light of her Catholic tradition.  She currently works for a Catholic Church and practices martial arts, cares for her family and pets and writes in her spare time.  Check out some of Jen's other stuff on her Facebook page or her website.