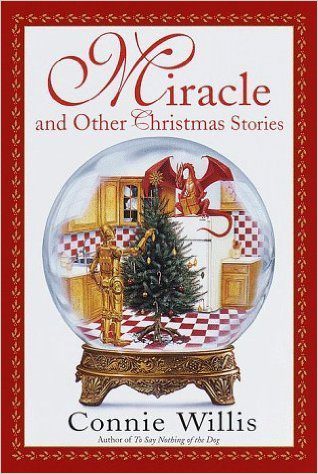 Connie Willis is an award-winning science fiction author and a deft satirist of contemporary foibles. (Read her novel Bellwether. Never again will you take seriously fashions, trends, or being cool.) She is also a Christian. (For more on her biography, go here.)
She has published a collection of short stories about Christmas–gift idea!–entitled Miracles and Other Christmas Stories. I'm reading them as part of my Advent and Christmas observance and enjoying them greatly. Some of them are of the Miracle on 34th Street-type warm-hearted type, only funnier, others are darker but thought-provoking, and some are about the True Meaning of Christmas.
Also of value in that volume is her introduction, in which she discusses the genre and gives her favorite Christmas stories. She then discusses Christmas movies. After a gentle critique of It's a Wonderful Life and an illuminating reading of said Miracle on 34th Street, she gives her favorite movies, most of which you will probably never have heard of. So we dug up three of them that I'll tell you about after the jump.
The Lemon Drop Kid is a Bob Hope movie based on a story by Damon Runyon. Hope plays a small time con man who finds himself owing a mob boss $10,000, which he must come up with by Christmas day. So Hope sets up a phony old folks' home and sends his cronies dressed in Santa Claus outfits to ring bells and get New Yorkers to throw money in their kettles. The film is absolutely hilarious, with Hope tossing off more funny lines per minute than you can possibly take in. And, yes, it ends up with a positive Christmas message. Also, the movie introduces the by-now Christmas standard Silver Bells.
The Three Godfathers is one of director John Ford's astonishing Westerns, starring John Wayne as the leader of a trio of outlaws who suddenly find themselves responsible for taking care of a newborn baby. This while being chased by a formidable posse and trudging through the Arizona desert. The cinematography, with its visual images of the wild west swallowing up the tiny human beings trying to survive in it, is breathtaking. And the cast cannot be improved upon. The story, despite some dark elements (which co-exist with funny moments) ends up honoring both the Bible, Christianity, and Christmas.
Her other suggestion that we found is Frank Capra's other Christmas movie, Meet John Doe, but we haven't seen it yet. (We bought the Bob Hope collection, with five of his movies, and the John Ford collection, which for a pittance more gives us four of his masterpieces. For a dollar less than The Capra movie by itself we bought The Directors collection, with ten classic pictures that amount to a college course in filmmaking.)
So what are your favorite Christmas stories or movies? Do you have any suggestions that we probably haven't heard of before?