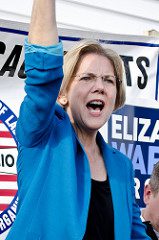 Trump couldn't be stopped in the Republican primaries, or at the convention, or in the general election, or in the Electoral College.  So now anti-Trump forces are trying to come up with Plan E.
The latest idea is to impeach him in his first year.  Trump's opponents see an opportunity in his business ties and in his refusal to divest himself of his financial holdings.  They think they can get him in a conflict of interest or in a violation of the Constitution's Emoluments clause, which forbids officials from receiving gifts from foreign governments.
And, to make sure, Senator Elizabeth Warren is introducing a bill to require the president to put his assets in a blind trust, with a proviso that failure to do so would constitute a "high crime or misdemeanor."
But Republicans control Congress!  A bill like that would never pass or survive a veto.  And an impeachment proceeding would surely go nowhere.  This is probably true, but it would only take a few Republicans–some of whom don't like him either–to join with a united front of Democrats to cause trouble for Trump.
From Adam Shaw, 'Next idea?' After Electoral College fail, anti-Trump forces look for new cause | Fox News:
A last-ditch effort by die-hard Donald Trump foes to derail the president-elect's victory in the Electoral College fell flat Monday, leaving the never-Trump movement licking its wounds and looking to 2017 for ways to thwart Trump's presidency and agenda.

The push to deny Trump the requisite 270 electors and send the election to the House of Representatives seemingly was doomed from the start, though it received significant media attention. In the end, only two Republican electors broke ranks – more defected on the Democratic side from Hillary Clinton.

What comes next for anti-Trumpers isn't entirely clear.

Some are preparing to attack him over his business ties, while the "I" word already is being bandied about. . . .

Texas Republican elector Chris Suprun, who voted for Ohio Gov. John Kasich on Monday, hinted that a push for Trump's impeachment could be in the works.

"As a person who has always played fast and loose with the law, Trump will likely be impeached within the first year of his Presidency by responsible Republicans in Congress. For the rest of us Americans, his presence in the Oval Office represents a crisis for the Constitution, the economy and the country," he said in the statement. . . .

Sen. Elizabeth Warren, D-Mass., and other Democratic allies also are eyeing a fight over Trump's business interests. Last week, five Democratic senators including Warren announced they would introduce legislation to require Trump to divest assets that could be a conflict of interest, and put them into a blind trust.

Sens. Ben Cardin, D-Md., Chris Coons, D-Del., Dick Durbin, D-Ill., and Jeff Merkley, D-Ore., are all backing the bill, which would deem a violation of conflict-of-interest laws "a high crime or misdemeanor under the impeachment clause of the U.S. Constitution."

"The American people do not want the President encumbered by conflicts of interest that put him in violation of the Constitution or US law," Cardin said in a statement.

This isn't the only sign Democratic lawmakers are gearing up for an impeachment threat sometime in the future. Politico reported Wednesday that House Democrats have held a mock hearing on Donald Trump's conflicts of interest, using staging, television cameras and testimony from witnesses.

The narrative that Trump could run afoul of the Emoluments Clause — which bars government officials from receiving gifts from foreign states — is gaining support from some progressive voices.
Photo of Elizabeth Warren by Tim Pierce, Creative Commons License.