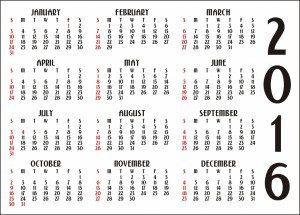 The Associated Press polled editors and news directors to come up with the top stories of 2016. Number one was no surprise: The U.S. Election.
In fact, you could probably spin out ten top stories from the U.S. Election: Donald Trump's election, the primaries, Hillary Clinton's email scandal, the Russian connection, Bernie Saunder's campaign, Republican party implosion, Democratic party implosion, Clinton's campaign mistakes, Trump's scandals, political hacking.
Number two is like unto Trump's victory: another unexpected populist uprising known as Brexit, Great Britain's vote to pull out of the European Union.
Consider the list of the top 10 after the jump. What other events of last year deserve to have been included?
From AP Poll: US Election Voted Top News Story of 2016 – ABC News (Go to the link to read details about each story):
1. US ELECTION

2. BREXIT

3. BLACK MEN KILLED BY POLICE

4. PULSE NIGHTCLUB MASSACRE

5. WORLDWIDE TERROR ATTACKS

6. ATTACKS ON POLICE

7. DEMOCRATIC PARTY EMAIL LEAKS

8. SYRIA

9. SUPREME COURT

10. HILLARY CLINTON'S EMAILS
Calendar from publicdomainpictures.net