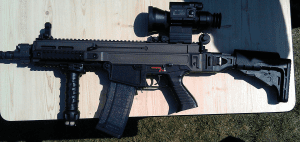 The Czech Republic, perhaps the most pro-gun nation in Europe, has called on its citizens to arm themselves as a line of defense against terrorists.
Meanwhile, the former Soviet satellite has been battling the European Union, of which it is a member, which has been trying to pass more gun restrictions.  With the help of Finland, Germany, and various national "right wing" groups, the measure was weakened.  But the version that passed will still force member nations, including the Czechs, to impose a ban on "military-style" firearms and to require gun buyers to pass "psychological checks."
Nevertheless, the Czechs are considering a constitutional amendment to strengthen gun rights.