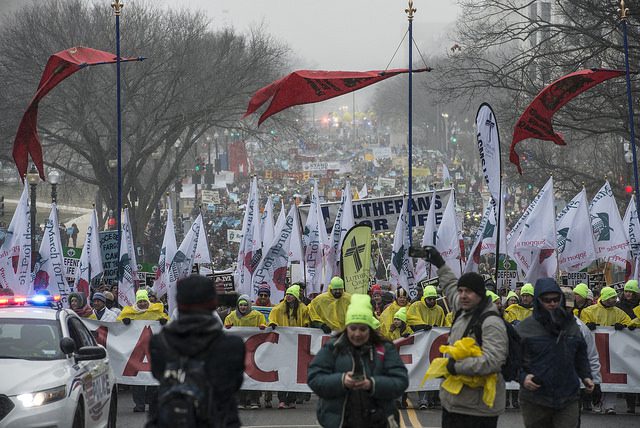 Today is the annual March for Life in Washington, D.C., where thousands of pro-lifers will commemorate the Roe v. Wade decision on January 22, 1973, by demonstrating against abortion and for the sanctity of life.
We'll see if this mass demonstration gets as much media coverage as the recent Women's March, which specifically excluded pro-life women.  I suspect not.
But the pro-life cause is making progress.  Abortion rates have dropped below the level they were before Roe v. Wade.  (That ruling legalized abortion nation-wide.  But it was already legal in some states.)
The number of abortion clinics has plummeted.
And the new Republican regime is implementing pro-life measures.  President Trump signed an executive order stopping taxpayer dollars from promoting and supporting abortion overseas.
And the House of Representatives has just passed a bill that would make permanent the Hyde Amendment, preventing taxpayer money from paying for abortions in this country.  (Currently, the Hyde Amendment has to be renewed every year.  This bill would make it a permanent statute.)  The measure also has language that applies the restriction to government subsidized insurance, to Obamacare or whatever replaces it.  (Details after the jump.)
Also, prospects look good for defunding Planned Parenthood.  And a pro-life Supreme Court justice is on the horizon.
There is still a lot to march about, but pro-lifers are at least making progress towards their destination.
From Veronica Neffinger,  U.S. House Votes to Ban Taxpayer Dollars from Funding Abortion – Christian News Headlines:
The U.S. House of Representatives has voted in favor of permanently banning taxpayer funding of abortion.

The House voted 238 to 183 yesterday (January 24) in favor of codifying the Hyde Amendment. The Hyde Amendment prohibits taxpayer money from going to fund abortion. It is already in place, but has to be renewed every year. If passed, the No Taxpayer Funding of Abortion Act (HR 7) would ensure that taxpayers will never be forced to fund abortion. . . .

The bill would also ensure that taxpayers do not have to fund abortion via their healthcare. The Affordable Care Act, known as Obamacare, has sparked controversy for that very reason, most notably in the cases of Burwell v. Hobby Lobby Stores and Little Sisters of the Poor v. Burwell. . . .

The White House also said it supports the bill, saying in a statement that "the Administration strongly supports H.R. 7…if the President were presented with H.R. 7 in its present form, he would sign the bill.". . .

The bill will now go to the Senate.
Photo:  Aleteia Image Department, March for Life 2016, Creative Commons License.