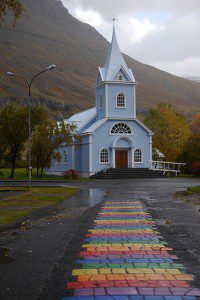 At Baptism, among other things, a child is named.  So what about those who later get a new name along with a new gender?  Some LGBT activists in churches are urging the adoption of a new service "akin to baptism" to mark and to formally bless transgender transitions.
Officials of the Church of England have tabled a proposal to that effect.  The General Synod meeting next week will NOT change church teachings about sexuality, it has been announced, and will NOT change the definition of marriage to allow for same-sex weddings.
But transgender re-baptisms, naming ceremonies, or the equivalent, are on the agenda of progressive church activists in many denominations.  They are already happening, as a Google search will show.
How does this show a misunderstanding of Baptism?
From Transgender Baptisms, Gay Marriage And George Bell: Your Guide To Next Week's General Synod | Christian News on Christian Today:
Transgender transition ceremony?

LGBT lobbyists will be pushing behind the scenes after the Blackburn diocesan synod tabled a motion asking bishops to consider liturgy to mark a gender transition.

Although unlikely to be debated at this sitting, the motion will prompt fresh calls for a new service, akin to baptism, for when someone wishes to change gender.

The idea was sparked after Rev Chris Newlands, the vicar of Lancaster Priory, was approached by someone wanting to be "re-baptised" in their new identity.

"The Church needs to take a lead and be much more proactive to make sure they are given a warm welcome," he said.

Informal ceremonies or "public affirmations" have taken place, according to The Guardian, but this motion asks for an official Church liturgy to mark the occasion.
[Keep reading. . .]
Photo by ActiveSteve, Rainbow Path to  Seyðisfjörður Church, Creative Commons License.