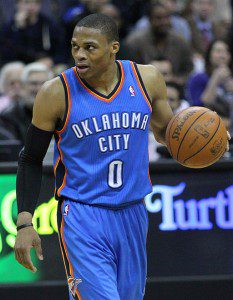 The Oklahoma City Thunder marketing office called our church a couple of months ago, saying they were offering special deals for church groups. So we got some folks together and got tickets to last Tuesday's game. They were playing the Milwaukee Bucks, the only other NBA team that I've seen in person. The Thunder game began with a local pastor giving a Christian invocation–how common is that in professional sports? (tell me if you know)–and after lots of opening razzle dazzle, the game settled in. The Thunder won 110 to 79. A good time was had by all.
We got to witness Thunder star Russell Westbrook tie the record for triple doubles (double figures in points scored, rebounds, and assists [passing the ball that leads to a basket]). We can tell our grandchildren that we were there when Westbrook ties Oscar Robertson's record of 41 triple doubles set back in 1962. Actually, it will be easy for me to tell my grandchildren, since a number of them were with us and witnessed it too. The next game Westbrook didn't make a triple double, but he made enough rebounds so that his average performance for the year was a triple double. And Sunday, Westbrook set the record after leading his team to a comeback win over Denver, which was leading 10 points in the last two minutes. Westbrook scored 50 points.
The entire state of Oklahoma is Thunder crazy. Kevin Durant was everyone's hero until he signed with the hated Golden State Warriors. But Westbrook stayed with the team! One fan started a petition to change the name of Durant, Oklahoma, a small town that had that name long before the Thunder was even thought of. The petitioners wanted to change the name of Durant to Westbrook, which is actually a good name for a town. So, of course, all Oklahomans think Westbrook should win the league's MVP award.
But how could he not win it? Not only has he made history with his triple doubles. He leads the league in points scored! And yet some pundits and fans are championing former-Thunder James Harden of the Houston Rockets. After the jump, I will make the case why Westbrook is the NBA's most valuable player.
One argument against Westbrook is the sense that the MVP should come from a really good team and that the Oklahoma City Thunder does not really measure up to the Houston Rockets. But there is already a prize for the best team. It's called the championship!
If Harden left Houston, it would still be a very good team. If Westbrook left Oklahoma City. . . .Suffice it to say that Westbrook is more valuable to OKC than Harden is to Houston. With Westbrook, though, the Thunder have clinched the playoffs. Has any other player made such a difference to their team? I don't think so. Thus, Russell Westbrook is the Most Valuable Player.
But Westbrook has his faults as a player, some say. He's a ball hog. He turns the ball over too much. Maybe so. But his numbers speak for themselves. He is the NBA's top scorer! He has set the world's all-time record for triple doubles! In addition to points scored, that feat also includes defense with his rebounding. And, contradicting the sense that he is always shooting (though it certainly seems that way), it includes assists, which entails passing and team play. And even if he is not the best all-round player (which is debatable), he is still the Most Valuable Player.
I would add that Westbrook has moments where he seems to do the impossible. For example, in yesterday's record-breaking game, in the course of coming back from a 10 point deficit in the last two minutes (pretty much all of which was his achievement), he made the game-winning shot: A three-pointer at the buzzer from some 10 feet behind the three-point line! He may be the most fun player to watch. (Maybe there should be a MFP award.)
Therefore, it follows that Russell Westbrook is the league's most valuable player and deserves the MVP award. Q.E.D.
Photo by Keith Allison from Owings Mills, USA (Russell Westbrook) [CC BY-SA 2.0 (http://creativecommons.org/licenses/by-sa/2.0)], via Wikimedia Commons