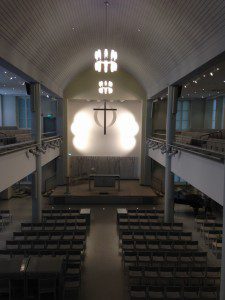 Church buildings used to be made so that they would be beautiful.  This was true not only of Gothic cathedrals but also of small Protestant churches, whose simplicity and lack of adornment had a classic, elegant aesthetic impact of their own.
This is not so true of churches built over the last 50 years or so.  They tend to be utilitarian, plain, drab, unsymmetrical, and often, well, ugly.  But this appears to be changing.
I discuss what happened after the jump.  I also tell about this striking example of contemporary church architecture that we saw in Finland, which reflects the history, struggles, and victories of confessional Lutheranism in Scandinavia.