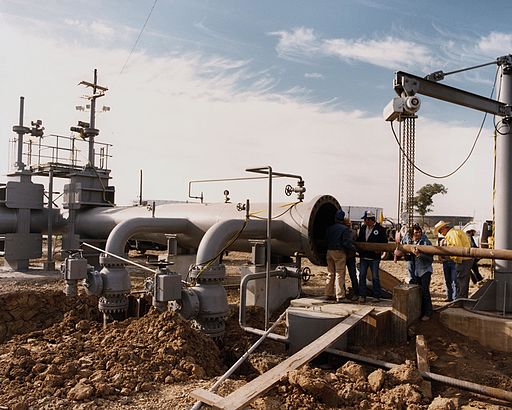 The federal government has stockpiled a massive amount of oil in the Strategic Petroleum Reserve. The purpose is to have an oil supply to keep the country going in the event of an emergency or shortfall (as in the Mideast
Oil Embargo
that was slapped on the United States back in 1973 for supporting Israel).
Now, as part of his budget proposal, President Trump wants to sell off half of the oil reserve.
Dumping such a large amount of oil into the market would send prices plummeting, which would not be good for America's oil industry, which is finally recovering from the price fall of the last few years. (So much for accusations that Trump serves the interests of big business.) Consumers would presumably be happy, paying even less than today's low prices.
Some are saying that America's shale is a de facto oil reserve, though it would take time to ramp up production in an emergency.
Do you think Trump's proposal is prudent, a good way to raise revenue to help make up for our budget deficit? Or is it imprudent, like spending your savings account?
From Matthew Daly, Trump plan to sell off half of oil stockpile sparks debate | News OK:
President Donald Trump's proposal to sell nearly half the U.S. emergency oil stockpile is renewing debate about whether the Strategic Petroleum Reserve is still needed amid an ongoing oil production boom that has seen U.S. imports drop sharply in the past decade.

Trump's budget, unveiled on Tuesday, calls for selling an additional 270 million barrels of oil over the next decade, raising an estimated $16.6 billion. The proposal, on top of planned auctions expected over the next few years, could push the reserve below 300 million barrels by 2025. It now is at 688 million barrels.

The petroleum reserve, created in the wake of the 1970s Arab oil embargo, stores oil at four underground sites in Texas and Louisiana. The reserve guards against disruptions in the flow of oil from the Middle East and other countries, and lawmakers from both parties have long warned against using it to raise money.

But some Republicans say North Dakota's oil-rich Bakken region offers a de facto reserve that can be tapped if needed.
Photo: U.S. Strategic Petroleum Reserve by ENERGY.GOV (227 006 001) [Public domain], via Wikimedia Commons