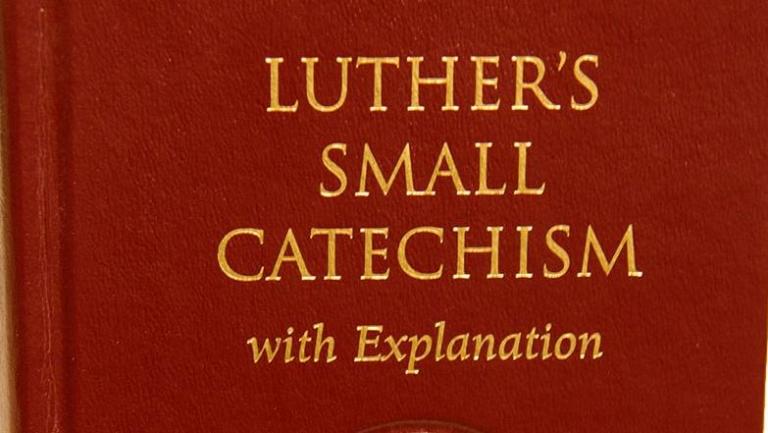 Luther's Small Catechism is a marvel of clarity, depth, and spiritual insight. Used for centuries to catechize children, it has also proven to be an inexhaustible devotional resource for adults. Now Concordia Publishing House is making an inexpensive edition designed to be handed out as tracts or given to friends.
The edition costs only about 50 cents each. And yet, it is very attractively printed, with full-color artwork. See what it looks like.
The booklet is only 32 pages long, so it is easy to read and to take in. It fits in your pocket. Entitled A Simple Explanation of Christianity, it comes in a pack of 20 for $9.99. (That's less than $10!)
Churches are buying them in mass quantities, giving them to members but also distributing them in evangelism projects, handing them out to visitors, using them in study groups, and encouraging members to pass them on to non-Christian or unchurched friends.
Our church is buying them!
My sources at CPH tell me that although the product has only been available for two months, they have already sold some 125,000 copies!
Buy them here.
What a good way to celebrate the 500th anniversary of the Reformation, to pass out a booklet that sets forth the content of what the Reformation was all about.
The Small Catechism–which shows Luther's writing at its best–is built around six "chief parts": The Ten Commandments, the Apostle's Creed, the Lord's Prayer, Baptism, Confession, and Holy Communion. The Catechism also includes "The Table of Duties," which teaches the doctrine of vocation.
The Catechism follows a question and answer format (which reflects the dialectical classical education of Reformation schools).
The explanations of each of the Commandments says what we should not do and also what we should do, with a vocational emphasis detailing how we should treat our neighbor.
The Commandments summarize the Law. The Creed summarizes the Gospel. The Lord's Prayer summarizes our relationship with God. The other sections summarize the Christian life.
You can read an online text of the Catechism here. For the Catechism's devotional use, read John Pless, Praying Luther's Small Catechism.
For those of you who didn't have to memorize it, as young Lutherans do in confirmation class, I will give you a sample to show you how good it is:
The Second Article of the Apostle's Creed: Redemption

And in Jesus Christ, His only Son, our Lord, who was conceived by the Holy Spirit, born of the Virgin Mary, suffered under Pontius Pilate, was crucified, died and was buried. He descended into hell. The third day He rose again from the dead. He ascended into heaven and sits at the right hand of God, the Father Almighty. From thence He will come to judge the living and the dead.

What does this mean?

I believe that Jesus Christ, true God, begotten of the Father from eternity, and also true man, born of the Virgin Mary, is my Lord, who has redeemed me, a lost and condemned person, purchased and won me from all sins, from death, and from the power of the devil; not with gold or silver, but with His holy, precious blood and with His innocent suffering and death, that I may be His own and live under Him in His kingdom and serve Him in everlasting righteousness, innocence, and blessedness, just as He is risen from the dead, lives and reigns to all eternity.

This is most certainly true.