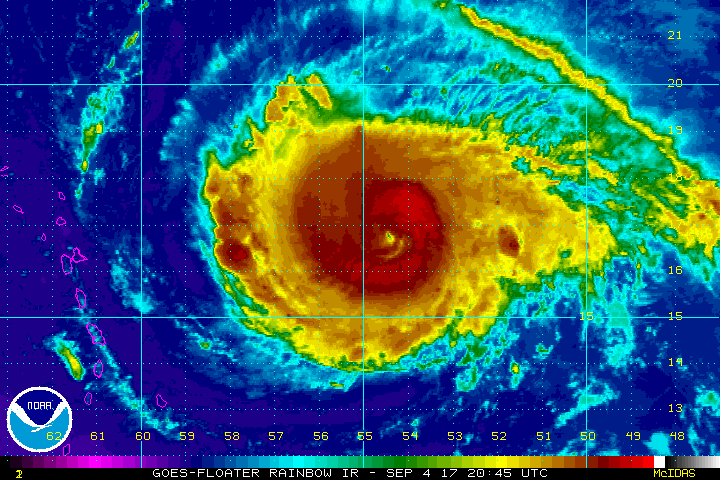 Hurricane Harvey finally dissipated on September 2, after killing 71 people, wreaking as much as $200 billion in property damage, and delivering the most rainfall ever recorded in the United States. And now, less than a week after Harvey officially dissipated, Hurricane Irma is set to hit Florida and the Southeast United States this weekend.
And Irma too is a monster. So far, it has become the strongest hurricane recorded in the Atlantic Ocean, with 185 m.p.h. winds. It has held on to its Category 5 status for 1.5 days.
As of this writing, it has slammed the Lesser Antilles Islands and the British Virgin Islands. Bermuda and Cuba will be next.
And it looks headed for Florida, with possible landfall in Georgia. Forecasters think it might skirt the East Coast, hitting the Carolinas and possibly other states.
The hurricane could come with a storm surge of 15-25 feet. Much of Florida is being evacuated. (Floridians and others in Irma's path, are you leaving or staying put? If the latter, why?)
And if the one-two punch of Harvey and Irma are not enough, two more hurricanes have already formed! Hurricane Jose is far out to sea and probably won't affect human habitations. But Hurricane Katia will likely hit Mexico.
See Hurricane Irma an Extreme Storm Surge Threat to the U.S. and Bahamas by Dr. Jeff Masters | Category 6 | Weather Underground.
So pray for the people of Florida and everyone else who is in the hurricane's path. Pray that Irma turns and heads back out to sea. Pray that these natural catastrophes will bring our country together again.
Keep praying for the victims of Hurricane Harvey in Houston, other parts of Texas, and Louisiana. The storm is over and the waters have largely subsided, but now comes the horrible labor of clean-up and rebuilding. As I believe I mentioned in another post, my own relatives in the area came through it all fine. But the nightmare continues for lots of folks.
And give money. Our church is taking up special offerings. I hear LCMS World Relief is doing stellar work in Texas. Give to them here.
Illustration: Hurricane Irma, September 4-5, by NOAA [Public domain], via Wikimedia Commons