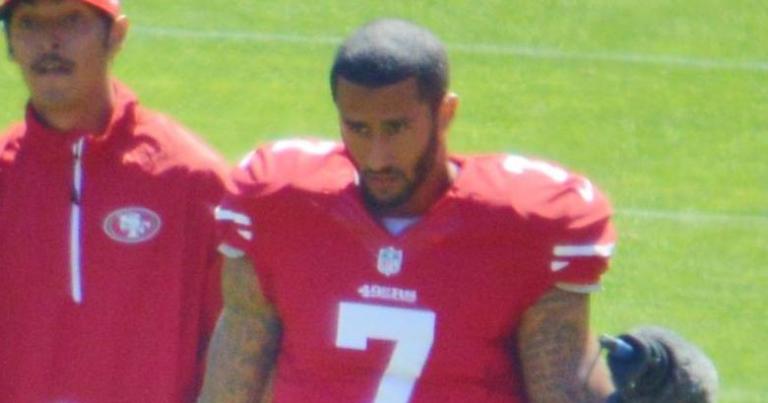 Remember when sports used to be a haven from the culture wars, a safe topic of conversation, a realm where people of all political beliefs and social standings could come together to cheer for the home team?
President Trump is calling on fans to just stand up and walk out of the stadium if any player takes a knee during the national anthem. So now liberals are calling on all athletes to do just that.
President Trump offered off-the-cuff-remarks about NFL games at a campaign rally. He started by complaining that the game isn't what it used to be, what with referees penalizing hard hits.
'But you know what's hurting the game more than that? When people like yourselves turn on television and you see those people taking the knee when they are playing our great National Anthem.'

'The only thing you could do better is, if you see it – even if it's one player – leave the stadium. I guarantee things will stop. Things will stop.'

'Pick up and leave. Just pick up and leave.'
He also called on team owners to fire any protesters.
'Wouldn't you love to see one of these NFL owners, when somebody disrespects our flag, to say, "Get that son of a b***h off the field right now! He is fired. He's fired!"'
So now the players' unions and the NFL organization have gone into full over-reaction mode, expressing outrage and defending players who protest. Meanwhile, in the NBA, players are attacking President Trump. Stephen Curry of the championship Warriors says that he won't go to the White House. So, playing tit for tat, President Trump has withdrawn the invitation.
Now we'll see what happens during the Sunday games, if lots more players protest at the National Anthem and if large numbers of fans stage a protest of their own by walking out when they do.
I won't be seeing what happens in the NFL because I am taking advantage of the privileges of retirement by going to a baseball game! We're going to Texas with the grandchildren and family to watch the Rangers play the Astros. We'll see if there are any protests in baseball. (I'm writing this on Saturday and will be on the road on Monday for the game. Please report and comment on any ramifications of this controversy that broke out in Sunday's games.)
UPDATE: Some 150 NFL players protested the National Anthem. The Pittsburgh Steelers, the Tennessee Titans, and the Seattle Seahawks all chose to remain in the locker room while the anthem was playing. I haven't heard of any fans burning their expensive tickets by walking out. (Have you?)
UPDATE: Playing in London, a number of players on the Ravens and Jaguar teams knelt for the American national anthem. But everyone stood for "God Save the Queen."
UPDATE: We were at the Astros/Rangers game Monday night. Nobody from either of those baseball teams protested.
I am also here to encourage you that sports can STILL create a feeling of unity and goodwill among fans. Oklahoma is feeling really unified and full of goodwill now at the news that Carmelo Anthony has been traded to the Thunder! That gives Oklahoma City three superstars in Russell Westbrook, Paul George, and now Anthony! The Oklahoma City Thunder are becoming a superteam, ready to take on the loathed Warriors, reversing the perfidy of him who will not be named.
Photo of national anthem protester Colin Kaepernick by Daniel Hartwig [CC BY 2.0 (http://creativecommons.org/licenses/by/2.0)], via Wikimedia Commons